Looking for the Best Baby Bottle Coolers?
In A Rush? Check Out The Number 1 Pick Here:
Columbia Badger Ridge Insulated Baby Food and Bottle Tote, Black
High density thermal insulation with Therma-Flect radiant barrier to keep contents cold
Features Ultra Safe easy clean lining
Two elasticized interior straps to keep bottles secure
Includes exterior zippered pocket and 2 exterior mesh pockets
Padded handle and adjustable shoulder strap for easy transport
Parents often find themselves dealing with hangry toddlers.
Say, you're out and about, and your baby refuses to drink their bottles. Nothing can be more stressful, trust me.
You need to have a supply of milk whether the baby is on breastfeeding or formula feeding.
Luckily, we have a solution for this – a baby bottle cooler bag; it stores milk, saves from spoilage, and balances temperature by keeping it cold or warm.
To ease your parenting, we have found some of the best baby bottle cooler bags.
Related: Why is baby formula so expensive?
Related: Best bottles for preemies
Model & Make
Best Seller
Columbia Badger Ridge Insulated Baby Food and Bottle Tote, Black
Best Budget
Momcozy Insulated Baby Bottle Bag, Multi-Function Breastmilk Cooler Bag & Lunch Bag, Fit as Wine Carrier or for Milk Bottles Like Dr. Brown, Comotomo, Philips, Nuk, Lansinoh, etc.
Preview
Best Seller
Model & Make
Columbia Badger Ridge Insulated Baby Food and Bottle Tote, Black
Preview
Best Budget
Model & Make
Momcozy Insulated Baby Bottle Bag, Multi-Function Breastmilk Cooler Bag & Lunch Bag, Fit as Wine Carrier or for Milk Bottles Like Dr. Brown, Comotomo, Philips, Nuk, Lansinoh, etc.
Preview
What to Look for in a Baby Bottle Cooler Bag?
Temperature Maintenance
Temperature maintenance is the exact reason why you need a thermal baby bottle carrier.
It is particularly important when you plan for longer duration outings.
Size of the Bottle
The rule is simple: for longer trips, you need a larger stack, while for shorter trips, smaller ones will work just fine.
Durability
The purpose of a baby cooler bag is to stay healthy while you are on the run.
It should be sturdy and waterproof. Check for the quality of straps, handle, and zippers.
Ease of Cleaning
When dealing with kids, milk spillage is frequent. Choose one where easy cleaning and maintenance is possible.
Non-Toxic
Be careful with toxic materials used for any food carrier. Babies are particularly susceptible to any unfriendly elements.
Best Baby Bottle Cooler: Our Top Picks
Columbia Badger Ridge Insulated Baby Food and Bottle Tote, Black
High density thermal insulation with Therma-Flect radiant barrier to keep contents cold
Features Ultra Safe easy clean lining
Two elasticized interior straps to keep bottles secure
Includes exterior zippered pocket and 2 exterior mesh pockets
Padded handle and adjustable shoulder strap for easy transport
If you are looking for a complete package – size, quality, safety, and affordability – go for the Columbia Badger Ridge.
You need not worry about your baby even if you plan a trip for a whole day; it can easily hold enough. Five to six bottles can be easily assembled.
To make temperature balance effective, it has high-density thermal insulation.
A therma-flect radiant barrier is engineered into it.
Cleaning is super easy with its ultra-safe smooth, clean lining.
The paddle handle is jerk friendly, and the adjustable shoulder strap is easy to fix.
The elasticized interior straps further keep the bottles secure.
Users' feedback and our research peg it as one of the best baby bottle cooler bags.
2.

No products found.
No products found.
As the name suggests, the No products found. is sure for the ones who always need to be on the go.
These specially designed insulated bags are fit to hold two bottles with an additional freezer pack.
You may also fit in the sippy cups or snacks, which can stay chilled for hours.
Two-way zippers allow ease, while its adjustable straps can also attach to strollers or bags.
To ensure that there is no health hazard, the product is made free of phthalates.
If you are in search of an easy-to-handle and quality cooler bag, this indeed rates as the best baby bottle cooler bag.
Momcozy Insulated Baby Bottle Bag, Multi-Function Breastmilk Cooler Bag & Lunch Bag, Fit as Wine Carrier or for Milk Bottles Like Dr. Brown, Comotomo, Philips, Nuk, Lansinoh, etc.
Detachable Insulated Compartment: Change your double baby bottle bag into a wine carrier by removing the insulated compartment.
Multi-Uses: They can be used as breastmilk cooler bag, lunch bag, picnic bag, or wine carrier, which is ideal for work, picnic, car trip, camping, school or pumping moms.
Full Insulated Waterproof 600D Peva Materials: This insulated baby bottle bag is waterproof, non-toxic, effectively keeps bottles warm or cold and protects your baby's food. The insulation effect can be doubled when used in conjunction with hot or cold ice packs.
Detachable Buckle & Shoulder Strap: The detachable buckle is designed for hanging on a stroller, such as uppababy, baby jogger, Britax, Bugaboo, BOB, Umbrella or Pet Stroller.
Perfect For Bottles: The milk storage bag is perfectly stored in most brand milk bottles like Comotomo, Philips, Evenflo, Dr. Brown, Tommee, Lansinoh, Nuk, etc.(Note: If your bottle is higher than 6 inches, please remove the compartment).
This Momcozy serves both adults and babies alike.
It has detachable insulated compartments and can be easily converted into a wine carrier by removing the insulation compartment.
It also equally serves as a lunch bag and picnic bag.
It is fully waterproof and safe; approved 600D PEVA materials are used.
It's a perfect fit for most of the movable kinds, detachable buckle and shoulder trap can lock into a stroller.
Vettore Sac al Fresco Neoprene 6 Pack Bottle Carrier Extra Thick Insulated Bottle Holder Keeps Drinks Cold Six Pack Beer Cooler or Baby Bottle Tote Bag or Beer Gift (Black)
CONVENIENT: Our 6 pack bottle carrier is built to last and is ideal for transporting your drinks. It will keep your items safe and cool. The easy to carry handle can also be used to hang on a stroller. It's a discreet way to transport your drinks and keep them well protected from bumps.
NEOPRENE: Made from the same non toxic, flexible material used in wetsuits. At over 4 mm thick it can keep drinks cool up to 4 hours, and will stretch to fit most cans and 12 - 20 ounce bottles.
EASY TO CLEAN: Most liquids will not be absorbed by neoprene, so when you're done just rinse, wipe and hang to dry. When not in use, it folds to 11 x 11 x 0.75 inches for easy storage.
PERFECT GIFT: Fill it up with your favorite craft beer and give it to a friend. It's the 6-pack cooler every guy should have and it makes a great beer gift. Also great as a BYO or BYOB bottle bag.
USAGE: Use it to take your favorite beer to a party or BBQ, take it camping, on a road trip, throw in some sodas for the soccer game, or us it to carry baby bottles when your on the go.
The Vettore is a perfect match for your toddler if you wish to stay long outside.
It can hold six bottles of milk with sizes 12 to 20-ounce.
With a thickness of 4 mm, it can keep milk warm for at least 4 hours.
It is made of neoprene, which is non-toxic and completely safe for your baby.
As most liquids are not absorbed by neoprene, you can just rinse, wipe, and hang it to dry.
Lekebaby Baby Bottle Cooler Bag for Daycare Breastmilk Cooler On The Go, Insulated Bottle Bag Fits 2 Large Baby Bottles Up to 9 Ounce, Grey
Large Capacity: Breastmilk Cooler Bag can place 2 x 9 ounce baby bottles. Size of baby bottle bag 7.48 x 4.33 x 8.66 inches (LWH).
Leakproof Design: Breastmilk cooler bag comes with a PVC insert, which is leakproof. Put your bottles into the insert firstly, then go into the bottle cooler bag. (Keep bag UPRIGHT when on the go). The exterior is made of water resistant fabric, easy to clean.
Perfect Insulation: With a food grade insulated interior, the baby bottle bag is great and safe for maintaining the temperature of sippy cups and snacks. Please add your OWN ice pack to keep it cold longer if necessary.
Convenient & Practical: Detachable buckle allows the breastmilk cooler bag matches with all strollers. Except for storing breastmilk, multifunctional cooler bag can used as a lunch bag to store fruits, lunch or other food.
Satisfied Guarantee: Lekebaby bottle cooler bag for daycare offers 30-day money-back guarantee and 180-day warranty for quality-related issues, our friendly customer service will be reply within 24 hrs.
This Lekebaby Insulated grey piece of beauty can be the right choice for all new parents.
It can fit six bottles, with one contoured ice pack. It is designed as such that it can hold milk fresh for 8 hours.
The only catch with this product is that you need to pour water yourself and refrigerate for 8 to 10 hours before using it.
It has additional waterproof pockets where you can store wet clothes or diapers and other items.
It also includes a front flap pocket for small items.
PackIt Freezable Lunch Bag with Zip Closure, Black
The Lunch Bag features Packit's groundbreaking cooling design. Non-toxic freezable gel is built into the walls of the bag: the entire bag freezes! Fold, freeze, pack and go!
Simple to use: empty, collapse and freeze the entire lunchbox overnight (12 hours). By morning, the walls of the bag will be completely frozen and ready to pack. This lunchbox keeps food cooler longer, which means you can pack healthier foods that would spoil in other lunch boxes such as: prepared meals, salads, fruits, meats, and veggies
Packit's Freezable Lunch Bag measures 9.75 inches tall, 8.5 inches wide and 6.25 inches deep while open. When folded, this lunch bag measures 8.5 inches wide, 3 inches deep and 5.25 inches tall for easy and compact storage in the freezer
The Lunch Bag features a zip top closure to lock in cool, dry air. A buckle handle on the back of the bag clips onto totes, backpacks and strollers for hands-free convenience. It even features a wider base to accommodate Packit's Mod Snack and Mod Lunch containers (sold separately).
This soft lunch bag is made from nontoxic gel and gel liner. Like all Packit products, the Lunch Bag is made from PVC free, BPA free, phthalate, and lead free (UL #B80321985, 12/5/2019) materials. Simple care: the interior wipes clean, spot clean exterior
The PackIt Black stands out from the lot. It comes with its patented cooling technology.
Freezable gel is permanently stored in the bag; you just need to refrigerate the bag before use.
Hence, you don't need to bother about the separate ice pack.
These bags are made from non-toxic poly canvas. It has a food-safe water-resistant lining.
nanobebe Breastmilk Baby Bottle Cooler & Travel Bag with Ice Pack Included. Compact Triple Insulated, Easily attaches to Stroller or Diaper Bag- Grey
Pump and Go - Store and cool fresh breast milk on the go. The bottle cooler kit's airtight, 3-layer insulated wipeable lining keeps baby bottles and breast milk bags warm or cold for hours. It's the perfect, compact companion to nanobébé's award-winning bottles for breastfed babies!
On-the-Go Feeding - Strap easily attaches to stroller or diaper bag for convenience, so you and baby are ready for a trip to the park or to daycare. Two-way zippers allow single or double bottle access, plus, spill proof engineering keeps bottles in an upright position to prevent leaks.
Store an Go - In addition to storing up to 3 nanobébé bottles, our handy interior mesh pocket provides plenty of space for other feeding accessories including breast pump parts, pacifiers, bottle nipples and more. Additionally, an ice pack is included so you can pack, travel and feed knowing your milk is safely chilled. For older kids it makes a perfect travel companion for food and boxed juices.
Pack and Go - Whether you're in need of a baby bottle cooler bag for daycare, a day trip, or simply the perfect accessory to your nanobébé baby shower gift this cooler is the perfect fit.
THE NANOBÉBÉ GUARANTEE – BPA-free, Phthalate-free . We want nothing but the best for you and your baby. That's why this nanobébé purchase is backed by our 100% satisfaction guarantee.
The Nanobebe Travel are ideal for travel.
Its unique three-layer insulation system vouches to keep breast milk warm or cold for longer hours.
Apart from storing three nanobebe bottles, it has enough space to store other feeding accessories like breast pump parts, pacifiers, bottle nipples, and more.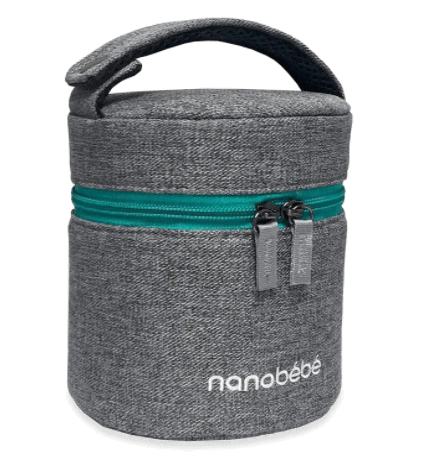 Tommee Tippee Insulated Bottle Bag and Bottle Cooler - Keeps Cold or Warm Bottles
Two insulated bags to securely store and protect baby bottles while traveling
Portable and convenient with excellent thermal properties.Velcro straps
Fully flexible twin pack – keep one bag hot, one bag cold
Adjustable strap allows you to attach onto a diaper bag or stroller on the go
Specially designed to hold Tommee Tippee baby bottles
The Tommee can be the twins in your family.
They come as a pair. You can make interesting use of them – let one store hot and the other cold.
Each one of them has a separate strap that can comfortably bond to your strollers or diaper bags.
These bags are non-toxic and BPA and phthalate-free.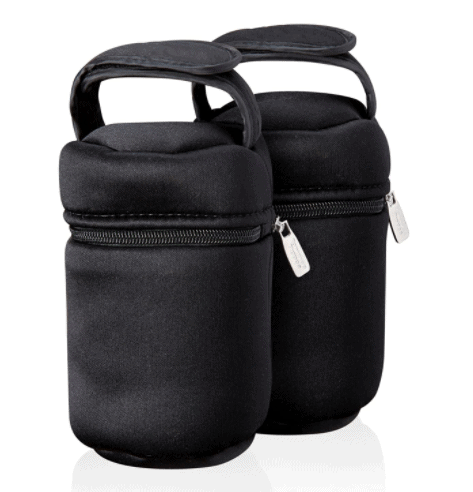 Sale
Dr. Brown's Convertible Bottle Tote, Black
Dr. Brown's Convertible Bottle Tote holds up to four bottles; designed for your favorite baby bottles including all sizes of Dr. Brown's bottles.
Folds over and fastens for a snug fit when storing shorter bottles or other small items; easily folds flat when not in use.
Made with neoprene for a water resistant, insulated, and cushioned bottle cooler, with an easy to clean interior and removable ice pack.
Wipe clean only. Do not immerse in water.
Material: Outer Shell is 100% Neoprene and Lining is 100% Vinyl. Made in China
This stylish Dr. Brown's Convertible baby bottle bag can be any mom's impressive collection.
It easily holds four bottles. It can fit most of the bottle sizes as it folds over and fastens for a snug fit.
Neoprene is used for its outer shell, which is non-toxic and completely safe for your baby.
As most liquids are not absorbed by neoprene, you can just rinse, wipe, and hang it to dry.
JJ Cole Satchel Diaper Bag, Stone Arbor
7 exterior, 4 interior pockets
Bottle pocket
Removable, padded shoulder strap
Includes grips stroller attachments
Coordinating changing pad included.zip-top closure protects and secures contents
Suppose you are looking for longer trips with your little one; you should choose this JJ .
It can fit two 8oz bottles. With smaller containers, you can also adjust sippy cups.
It has a functional insulated interior. However, you may also use freezer packs for extended temperature control.
An exterior pocket can also hold other necessary utensils.
Related Post: How To Warm Bottles On The Go?
Verdict
Parents cannot go wrong, and in this pursuit, you must have carefully studied all the products on our list.
However, we recommend the Columbia Badger Ridge as the best baby bottle cooler bag on all parameters- quality, temperature balance, size, safety, affordability, and customer sentiments.
Bestseller No. 1
Sale
Bestseller No. 2
Bestseller No. 3
Nanobébé Flexy Silicone Baby Bottle, Anti-Colic, Natural Feel, Non-Collapsing Nipple, Non-Tip Stable Base, Easy to Clean, 3-Pack, Gray, 9oz
SOFT AND FAMILIAR FEEL: Naturally hygienic, extra-soft, easy to transition between breast and baby bottles, and avoid nipple confusion; made from the highest grade silicone, dishwasher & microwave safe, BPA, PVC, LEAD, and PHTHALATE FREE
ANTI-COLIC, GAS-FREE FEEDING: Advanced 360° TRIPLE VENTED non-collapsible nipple design, so baby keeps a perfect latch and no post-feeding fussiness, gassiness, or discomfort; Same soft nipple as theaward-winning Nanobebe breast milk bottle
MAXIMUM CONVENIENCE: Stable base prevents tipping on any surface, easy to read volume scale, leak-free, and easy to clean
GROWS WITH YOUR LITTLE ONE: Holds up to 9oz; quick snap bottle handles (sold separately) that babies love to hold encourage development of fine motor skills
THE ULTIMATE BABY BOTTLE: Perfect for all your feeding needs (baby formula, milk, water) at all stages from newborns and infants to toddlers
Bestseller No. 4
Nanobebe Breastmilk Baby Bottle (Award Winning Innovation for Breastfed Babies), Breastfeeding Newborn Breast Like, Anti Colic, Perfect Latch, Preserves Breast Milk nutrients, 3-Pack, Grey
BREASTFEEDING BOTTLE: Baby instinctively connects to the bottle's familiar shape, while 2x faster warming satisfies baby's immediate hunger needs. Our award-winning baby bottles for breastfed babies encourage a smooth transition from breast to bottle (and back).
NUTRIENTS PROTECTION: A breastmilk storage bottle that cools 2xs faster to reduce bacterial growth. Even warming prevents hot spots & Quick warming allows to use safe temperatures.
ALL-IN-ONE FEEDING BOTTLE: The included breast pump adaptor means you can conveniently pump directly into your bottle, seal for perfect breast milk storage, warm, and feed all from one baby bottle. Easy to clean and assemble.
ANTI-COLIC BOTTLE: Slow flow 360 degree double vented system prevents colic and baby gas. Optimal for a breastfeeding newborn.
BPA, PVC, LEAD and PHTHALATE FREE
Sale
Bestseller No. 5
Tommee Tippee Advanced Anti-Colic Newborn Baby Bottle Feeding Set, Heat Sensing Technology, BPA-Free , Teal , 10 Piece Set
Designed to reduce colic symptoms for less gas, less spit up and less discomfort
Unique 3-piece anti-colic straw draws air away from milk Star valve prevents milk traveling back up the tubeso no leaks and thats a promise
Heat sensing technology turns straw pink when babys milk is too hot
BPA-free and phthalate-free for ultimate reassurance
This Newborn Bottle Set contains 3 x 9 oz. Advanced Anti-Colic Bottles, 3 x 5 oz. Advanced Anti-Colic Bottles, 2 x Medium Flow Advanced Anti-Colic Nipples and 2 x Spare Advanced Anti-Colic Valves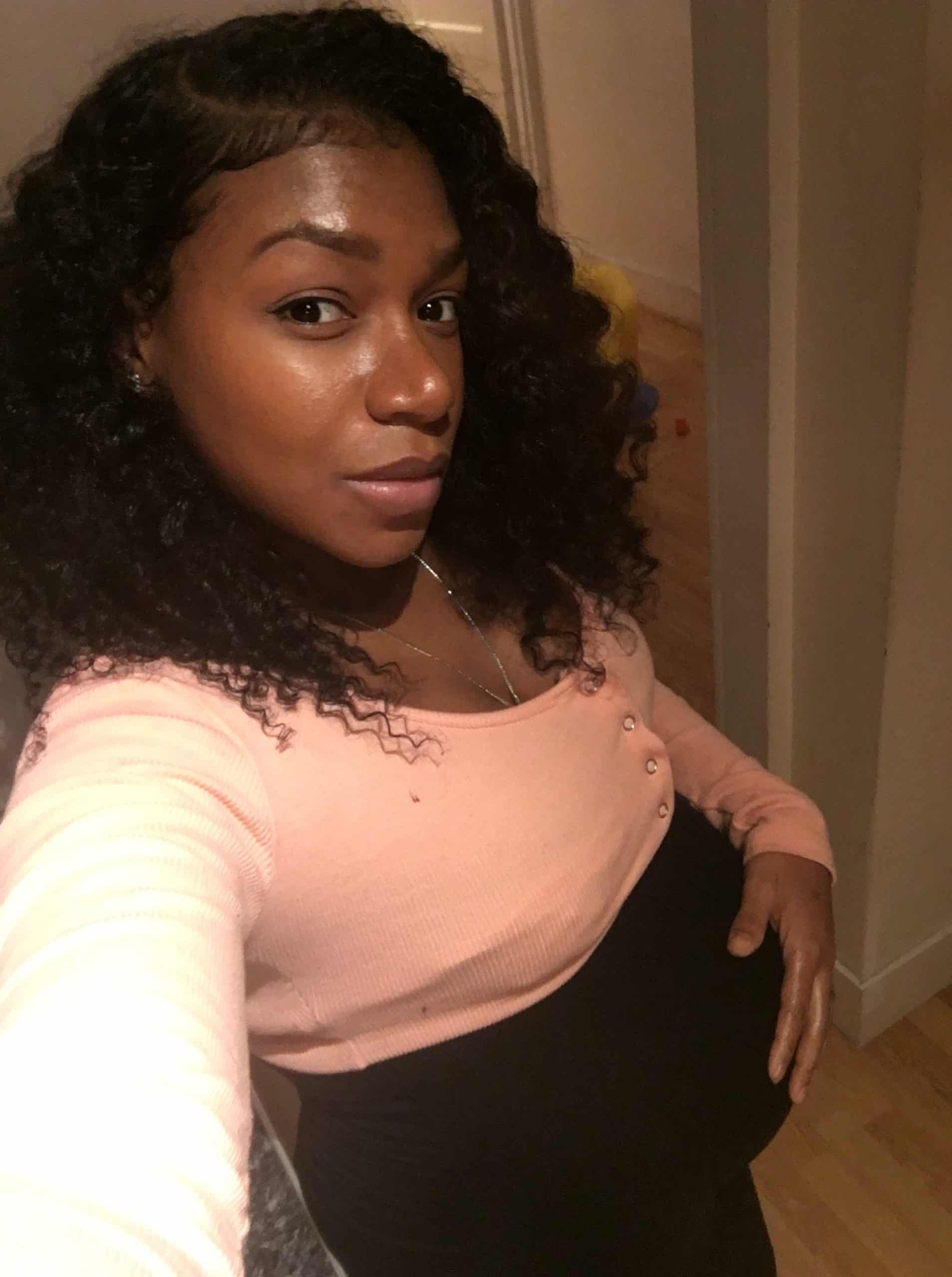 Iesha is a loving mother of 2 beautiful children. She's an active parent who enjoys indoor and outdoor adventures with her family. Her mission is to share practical and realistic parenting advice to help the parenting community becoming stronger.
Need a bit of help getting rid of that stubborn weight?
The MUTU System is an proven online fitness program for pregnancy and every step of motherhood aimed at Pre and Postnatal Care.
The MUTU System is Medically proven to prevent and heal all types of moms who want to give their bodies a push.
(In fact, Kate Middleton, the Duchess of Cambridge, has been reported to use the MUTU System to regain her body size after giving birth)
Take matters into your own hands for faster results. Discover More Here