Looking for the Best bassinet for twins?
In A Rush? Check Out The Number 1 Pick Here:
An essential item if you are expecting twins is a twin bassinet. Simply caring for one newborn baby is challenging enough.
The best bassinet for twins is a sleeping unit that is safe, durable, washable and you can depend on them.
As infants spend much of their initial months figuring out the sleeping pattern it's important you try to find a schedule that suits both you and your baby.
That's where a bassinet comes in.
As they are portable and durable you can use them in whichever room you sleep in to keep a close eye on your baby during the night.
Furthermore, they are the first step before the crib so it enables them to get used to independent sleeping before having their own crib.
Figuring out the best bassinet for twins can take time as there are many factors to take into consideration, Brand, safety features, material, and affordability are just a few important things to consider before buying a bassinet.
On top of having twins means it's double the headache of getting everything right.
We've done hours and hours of research and researched the entire market to bring you the top 5 bassinets for twins.
These are practical, safe and affordable and will ensure your baby gets the best sleep hands down.
[table id=9 responsive="collapse" /]
Best Bassinet For Twins
1. JOOVY Room2 Twin Nursery Center
The JOOVY Room2 Twin Nursery Center is a twin bassinet that comes with a practical changing table. (play yard sold separately)
It focuses heavily on practicality having a removable center with divider.
This enables your babies to have an independent sleeping area and makes the world of difference for safety and comfort.
Like everything twin related, sometimes you actually need them to be close together so the diver can be taken out for playtime and snuggle time
As the changing table is included, you won't have to worry about an independent area just for changing which is always a bonus.
As the changing pad is machine washable it provides an additional benefit for guaranteed spills and marks.
It has a functional weight limit of 15 pounds (per baby) which is a little on the light side but some parents mention that this baby inevitably moves toward the middle of the bassinet before the weight limits kick in due to the design.
PROS:
Machine washable Changing pad
Light weight and practical
CONS:
– Putting in and taking out changing table can be a problem
– As babies get bigger, they tend to shift toward the middle
2. Baby Trend Twin Nursery Center
The Baby Trend Twin Nursery Center is a functional and uniquely designed bassist that is idea for twins.
It's a sturdy product with designers that stand by the quality and robust design.
This is evident in the unique and problem-free features.
Firstly it comes equipped with music and vibrations to help ease your baby to sleep.
That's a great addition and something that other brands don't include.
Consequently, both bassinets have their own settings and controls, so you can independently turn off and on each bassinet making it perfect for when one baby is sleeping and the other is awake.
Additional it comes fitted with a night light, which may not sound like much, but there are times when you'll wake up in the middle of the night and still be in "sleep-mode" so having a quick night light integrated into the twin bassinet is a bonus for quick and easy access.
The bassinets are removable and include high quality built handles making them functional and portable.
They include built-in shells for easy transport and You can even hang toys, safely, from them to keep your baby engaged.
Lastly, they come fully equipped with a changing table and organizer.
Overall we love this twin bassinet and it has fanatic reviews online.
PROS:
Durable, Portable & Functional
Includes changing table and parent organiser
Features music, night light and vibration modes.
Built in Wheels for mobility
CONS:
– Changing table is not machine washable
3. HALO Bassinets Twin Sleeper Double Bassinet
The HALO Bassinest Twin Sleeper Double Bassinet is a dynamic and functional bassinet that has quality written all over it.
With an adjustable height of 24 inches and 34 inches, it's practical and efficient.
This makes adjusting to your bed height very easy to do.
It rotates 360 degrees so you have the option to spin one baby around to cater to them while keeping the other one in an untouched position.
This, evidently, means you can stay in bed and tend to you rabbis independently which is a very big bonus.
Additionally, the side walls are adjustable and can come down making taking your baby out or putting them in very easy.
It features a smart divider to keep your babies separate and includes a novel back to bed reminder.
This is a simple reminder that will help you manage tiredness just in case you fall asleep while feeding one twin and forgot to put them back into the bassinet.
It's s after feature that many parents love the option to use.
With added music, vibrations and lullabies this bassinet really does have it all with an elegant but practical design and use.
It even has a night light which always comes in handy when you need to sort out your baby in the middle of the night.
PROS:
360 degree rotation for easy use
Side walls are adjustable and have an auto return feature
Practical design with Adjustable height
Back to bed reminder
Impressive Soothing center (with night light, vibration, and soothing sounds)
CONS:
– A little on the expensive side
– No wheels for manoeuvrability
4. MiClassic 2in1 Rocking Bassinet
The MiClassic 2in1 Rocking Bassinet is.
A great addition to the family if you prefer to have two single bassinets instead of 1 joint one.
This bassinet has dynamic features and can transform between rocking mode and stationary mode in the click of a button.
The recommended maximum weight is 33 pounds which are on the larger side and higher than most other brands.
This helps to cater to bigger babies or parents that wish to keep their babies using the bassinet for a little longer than a few months.
It's a very portable and lightweight bassinet that is travel friendly.
It can be folded up a few seconds which is a big bonus if you are always on the go and need something that is ready when you are.
Overall it's a function and durable bassinet that has many great reviews on ease of use and travel purposes.
PROS
Intuitive rocking and stationary modes for sleeping
High Maximum weight allowance (33 pounds)
Can be folded in a few seconds
CONS:
– Is a single bassinet so you will need to buy two
– No soothing unit or sounds, lights etc
5. Graco Pack 'n Play Playard with Twins Bassinet
The Graco Pack 'n Play Playard with Twins Bassinet comes highly recommend amongst parents who have twins.
This top choice is a great addition to the family and won't disappoint.
It's very easy to put together and is portable and fairly easy to carry This makes it simple to use between rooms but still sturdy enough to give you baby moths of usage before they need to be transferred into a crib.
Being designed for babies that are less than 15 lbs it's perfect for your twins in the first few months.
The Playard comes with two separate canopies for each twin to sleep in and a well-ventilated fabric for constant airflow.
Additionally, it comes with wheels for mobility.
The best part of this bassinet is that once your little ones have grown out of it, it doubles up as a toddler Playard which makes it's affordable, practical and dynamic.
Overall we love Graco Pack 'n Play Playard besides it's a high quality make, portable and durable but even more so because it's a 2 in 1 and as your baby will grow up much faster then you expect it still proves to be cost-effective as you can use it for months and even years afterward as a placard.
PROS:
Doubles up as a Playard for long term use
Safe and practical option for twins.
CONS:
A bit on the expensive side
These are the Best Bassinet For Twins we recommend.
Always make sure you choose the safest option for your children!
Related Post:
Verdict
This is our top pick!
Sale
Bestseller No. 1
Sale
Bestseller No. 2
Baby Trend Lil' Snooze Deluxe III for Twins, Cozy Grey
Includes two removable Rock-A-Bye Bassinet converts to a stand alone rocker and includes plush fabric and mesh sides for proper ventilation
Each Rock-A-Bye Bassinet includes two hanging toys to stimulate grasping and reaching
Equipped with an electronic music center with volume control, nightlight, and vibration for each Rock-A-Bye Bassinet
Bestseller No. 3
HARPPA Twins Bassinet for Baby, Bassinet Sleeper for 2 Babies, Infant Co Sleeper with Storage Basket, Adjustable Height Portable Bedside Crib with Wheels & Airflow Mesh (Khaki)
Provide Your Baby with a Comfortable Sleeping Space: Experience the utmost convenience for babies with our twins bedside bassinet. Featuring a side zipper design for easy access, breathable mesh panels for optimal ventilation, and a removable center divider that can be adjusted as needed. This baby bassinet is an ideal companion for breastfeeding moms.
5 HEIGHT ADJUSTMENTS: Our crib side sleeping bassinet features 5 adjustable heights, enabling you to customize the height to your preferences. It's perfect for accommodating various bed heights and ensuring a secure fit.
PREMIUM WOOD GRAIN FRAME: Our portable twin baby bassinet is constructed with a durable wood grain frame, ensuring lightweight convenience and robust stability. Whether you're nursing, breastfeeding, or bottle-feeding, this dependable bassinet provides peace of mind and practicality. Experience the flawless blend of safety and portability with our top-tier twin crib bassinet.
Bestseller No. 4
Ihoming Double Bassinets For 2 Babies, Twins Infant Co Sleeper Bedside Crib Attaches to Bed, Grey
【Double The Area Than Others】: Ihoming twin bassinet measures 37.5" x 35.5". The larger area brings greater comfort for baby 0-12 months or twins 0-6 months.
【Stable and Safe】: Made of premium aircraft grade aluminum alloy aluminum, lightweight and stable. With a maximum load of 175lbs, you don't need to worry about baby's safety.
【6 Adjustable Heights】: Our ihoming twin bassinet as a bed side sleeper can fit most bed, as its height can be adjusted from 29.5" to 35.5".
Bestseller No. 5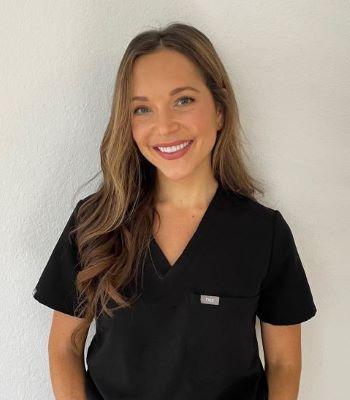 Nurse Practitioner at Venus Med Spa