-- Discover a safe space for women to meet, listen and share valuable advice!
The Mothers Community is safe online community sharing advice on fertility, pregnancy and motherhood through to menopause. Join Community Here --
Looking for the Best Miniature Remote Control Helicopter?
In A Rush? Check Out The Number 1 Pick Here:
There was a time when kids (and some grown-up kids) used to fancy RC Cars.
Not anymore, though! RC Cars have become a bit too cliché for children!
After all, why fancy a mere ride when you can have the aerial flips and swings?
RC helicopters, on the other hand, are the new fun thing.
Alas, getting your hands on the right model requires a lot of research.
And, determining the perfect blend between throttle hold and programable pitch curves is just the beginning.
Related: Best train tables for toddlers
Luckily, we love kids! And, we love RC Helicopters even more!
Here are a few things you must keep in mind while buying the best miniature remote-control helicopter.
Model & Make
Best Seller
Syma S109G 3.5 Channel RC Helicopter with Gyro
Preview
Best Seller
Model & Make
Syma S109G 3.5 Channel RC Helicopter with Gyro
Preview
How To Choose The Best Miniature Control Helicopter?
As mentioned earlier, it takes a lot to determine the best mini RC helicopter.
That being said, these three considerations are must while making a purchase: –
You Must Begin By Considering The RC Helicopter Categories
Typically, there are two categories; toy and hobby-grade.
While the toy-grade RCs are cheaper, they lack flight finesse and build quality.
Hobby-grade RC helicopters, however, are durable and provide better value for money.
Number Of Rotors
RC helicopters usually come in two forms.
Some have a single primary rotor and a tail rotor, while others have two primary rotors in place of a rotating tail blade.
These are called the coaxial rotor type helicopters.
The two blades move in varying directions, thus, preventing the aircraft from spinning.
Type Of Pitch
There are only two categories to consider in this, fixed pitch and collective pitch.
The term 'pitch' describes the action of the tail rotor.
Fixed pitch helicopters are easier to master than their counterparts.
However, collective pitch RC helicopters can perform neat tricks that fixed pitched ones can't do.
5 RC Helicopters That Deliver To Kids' Expectations
Syma is a true wonder.
It's as good as a real helicopter, just miniaturized.
Its most intriguing part is the integrated gyro that keeps it stable throughout flights.
You may use it for mid-air flips and twists, and it'll still not flinch.
That is amazing for such a small machine. It even has some smart sensors that enable safe flying.
It also shuts itself down whenever being strangled. Plus, it has a flight range of around 15 meters.
This makes it the best indoor RC helicopter on our list.
It comes with an RC helicopter, a USB cable for charging, an additional tail blade, a transmitter, and a user manual.
It requires around 30 -50 minutes of charging.
Once fully charged, it can immediately take flight and stay in the air for the next 8 – 10 minutes.
It comes with mild customization options that make it even better for kids!
2.

No products found.
No products found.
The No products found. is full of surprises!
It comes with an inbuilt gyro for flight stability, much like Syma S109G model.
However, unlike its counterpart, it is not confined to indoor flights.
It comes equipped with a coaxial rotor that provides great power.
It even helps the helicopter to perform mid-air tricks with ease.
Furthermore, the preinstalled LED lights ensure night-time flight capacity for the helicopter.
Flying this machine is rather easy.
That's primarily because of the smart sensor that takes control of the RPM during forward-flights.
This prevents the copter from crashing straight into objects.
The overall weight of the helicopter is around 1.68 kgs. That is pretty light for a helicopter of such capabilities.
It comes equipped with a load of accessories including a Revell Control Helicopter Buzzard, a radio control device, initial set of batteries required for the transmitter, additional pair of rotors, and a 100 – 240V charger.
As far as controls go, this RC flyer comes with a 3-channel transmission.
This means that the helicopter can be commanded to fly in 6 different directions.
The copter responds to commands transmitted at 29.96 MHz.
So, with just a little practice, you'll be able to blend multiple direction commands.
In short, this is one of the best remote-control helicopters you can buy!
VATOS RC Helicopter, Remote Control Helicopter with Gyro and LED Light 3.5 Channel Alloy Mini Helicopter Remote Control for Kids & Adult Indoor Micro RC Helicopter, Helicopter Toy for Kids|
LIGHT-WEIGHT & STABLE WITH WIDE INFRARED CONTROL -- This creative infrared induction RC helicopter is made of lightweight and super hard material. Super crash resistant during the flight.
FULL 3.5 CHANNEL & 3 SELECTABLE FREQUENCIES HELICOPTER TOY -- Up, Down, Left, Right, Forward and Backward. It can fly 6 minutes after charging for about 40 minutes. USB socket and transmitter of the charge method. 3 Selectable Frequencies Let You Fly Up To 3 Helicopters At Once.
NEW GYROSCOPE TECHNOLOGY -- This RC Helicopter equipped with the latest Gyroscope technology & high grade metal body frame which is used to stabilize the helicopter's heading. Ideal for beginners, advanced and professionals!
PERFECT FLYING PERFORMANCE -- With LED lights make it easy to fly in the dark. Amazing Technology in the palm of your hand! RC Helicopter, No Assembly required, Ready To Fly!
Vatos RC Helicopter all passed several test with certificates: FCC, CE, ROHS, EN71, EN62115, EN60825, R&TTE, PAHS, HR4040, 7P, ASTM. Compatible with US and EU standard. We offer a 90 days warranty, if any questions, feel free to get in touch with us!
VATOS RC HELICOPTER is one of the few fully functional remote-control helicopters for adults.
This copter made is compatible for all ages above 14.
It is one of the fastest flying machines on this list, making it one of the best RC helicopters 2019.
Alas, we cannot say the same for its durability.
The manufacturers clearly compensated with its build while trying to make it faster than the rest.
That makes it incompatible for outdoor flights, unlike its counterparts.
In fact, a minor crash may also affect the copter severely.
So, it is recommended that you only take it for a spin when you're confident enough to handle its controls.
Moreover, it is super light, so flying it within high wind speed is also not recommended.
That being said, it is a fun machine, to begin with.
Moreover, it has cleared certifications like FCC, CE, PAHS, ROHS, and more.
This makes it suitable for use across the US and UK alike!
It comes packed with an inbuilt gyro for stable flight, a pair of coaxial primary blades for higher flights, and integrated LEDs for night flights.
4.

No products found.
No products found.
No products found. is the 4th best mini RC helicopter in our list.
It is manufactured by GP Toys and comes with a 3.5 channel radio control.
It has some design similarities with its counterparts.
However, the overall build is different from others. It can typically be found in a color variant of white and black.
This miniature RC helicopter houses a powerful gyro within its body. This enables it to fly with stability.
It even allows the controller to perform a few tricks with this little mechanical bird.
5.

No products found.
No products found.
No products found. marks the last name in our list of best miniature remote control helicopters.
This one also comes with a 3.5 channel command acceptance module.
However, unlike the rest of the models on this list, it is not suited for even mild outdoor flights.
This is because of the lightweight materials used to produce this.
Having said that, it still makes one of the best mini RC helicopters!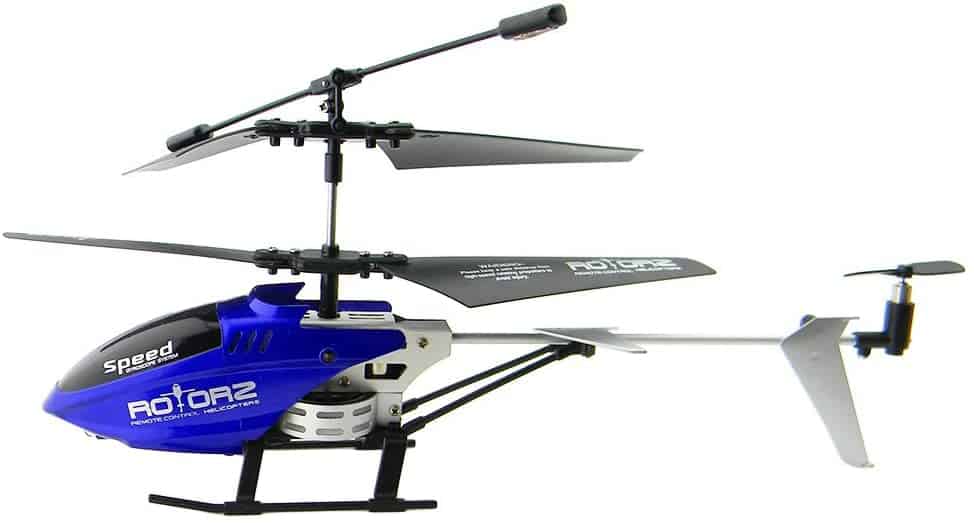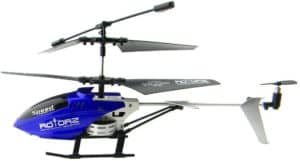 Verdict
There are hundreds of toys that all children will love, but mini helicopter come very close to be the very best.
We will definitely root for Syma S109G RC Helicopter With Gyro.
This is really a stand-out machine with an intriguing design.
It is the only one on this list that looks different.
Moreover, it even has the best gyroscopic installations within the rotors.
Thus, you get the best mid-air stunt possibilities with it.
Sale
Bestseller No. 1
Mini Helicopter, SYMA S100 Super Smaller RC Helicopter Indoor Aircraft with Altitude Hold, One Key take Off/Landing, LED Lights, Rechargeable Battery, Remote Control Toy for Kid,and Beginner
Cute Drone with Mini Size:This RC helicopter has supper mini size 4.1*2.36 *1 inch, it is so small that you can put it on your 2 fingers, which is suitable to play with your family or friends.
Remote Control Helicopter:Easy to use helicopter Up, Down, Left, Right, Forward and Backward. With function of One-key Take off/Landing, Attitude Hold, Emergency stop, LED Light.
Multi-Protection for Helicopter:The helicopter with low-voltage and reverse connect protection and Jammed for inner Board. It can be better to protect the helicopter with these functions when put battery wrong director or lower Voltage.
Bigger Alloy Sturdy Material & Anti-Collision:The helicopter with alloy is very sturdy with longer lifespan, which is suit for kids, Adults and beginner to play as no serious damage or dysfunctional appearance after many times crashes.
This little cool RC vehicle toy would be a good choice when picking Christmas or Birthday gifts. By the way, please feel free to draw us an email if you have further questions.
Bestseller No. 2
DEERC DE51 Remote Control Helicopter Altitude Hold RC Helicopters with Gyro for Adult Kid Beginner,2.4GHz Aircraft Indoor Flying Toy with 3.5 Channel,High&Low Speed,LED Light,2 Battery for 20 Min Play
【Easy to Assemble & Control 】: Equipped 2 different helicopter shells to choose different shells as you like, easy to assemble. This 2.4GHz RC Helicopter is equipped with the latest Gyroscope technology and automatic pair. Turn on the RC helicopters power switch then turn on the remote, and when you hear one beep that is automatic pair success. Ideal for beginners, advanced, and professionals.
【One Key Take-Off/Landing】: The RC helicopter with Altitude Hold function. Under these functions that the RC helicopter can keep a hovering height. It is easy to operate for kids and beginners. Equipped with a 2.4GHz remote control system what it does is that it can offer a stable signal and it has a non-jamming function. It can prevent signal interference when multiple helicopters playing at the same time.
【2 Modular Batteries】: Equipped the newest Modular Battery, that is different from other helicopter batteries. You can enjoy the fun of driving for about 20+ mins a time (10+ min for each battery) with this remote control Helicopter which is longer than other RC Helicopter. The USB cable provides more convenience for charging.
【Perfect Flying Performance】: RC helicopter flying in 2 speed that High & Low, features bright LED to fly in low light. The control distance is about 50 meters (no interference and occlusion and depends on playing operations). Amazing Technology in the palm of your hand, and for more indoor games fun.
【Kid Safe and Durable Helicopters】: This RC helicopter is built with a metal body, the child-friendly flying toy features flexible blades for increased safety and durability. Perfect indoor flying toy is a must-have for boys, girls, and RC helicopter-lovers! Perfect for Birthdays, Christmas, or any other holidays!
Sale
Bestseller No. 3
Cheerwing U12 Remote Control Helicopter with Altitude Hold, Mini RC Helicopter for Adults Kids, One Key take Off/Landing and 2 Batteries
【Hover / Altitude Function】Updated with Altitude Hold Function, this 2.4GHz rc helicopter can be locked at a certain height when your hands are off the controller.
【One Key Take off/Landing】This helicopter is equipped with the latest Gyroscope technology, with One Key Take Off/Landing and Auto-Hovering Function , which makes it easier to operate for beginners and kids. Ideal inddor flying toys for boys, girls, and adults!
【High/Low Speed & LED Light】This rc helicopter features 2 Speed Modes which make it suitable for pilots with different skill levels. Plus 2.4Ghz Remote Control system which can prevent signal interference, supports multiple helicopters playing at the same time for more indoor games fun.
【2 Batteries & More Spare Parts】Extra battery which allows you to enjoy the fun of flying for the helicopter. It also comes with more spare parts like tail blade and connect buckle.
【Durable & Anti-Collision】Super Durable with metal frame and flexible blades, which provides to withstand dozens of crashes, makes this mini helicopter more tough, durable and safe.
Sale
Bestseller No. 4
SGILE RC Stunt Car Toy, Remote Control Car with 2 Sided 360 Rotation for Boy Kids Girl, Green
Insane Stunts, Cool Features - The car can move in all directions, can do extreme 360-degree tumbling spins and can also flip on both sides using its controller. The racing car body is built with soft but strong plastic allowing it to handle all kinds of collisions. Premium rubber tires allows the car to be controlled easily while its internal coil springs are elastic, giving the car a smooth run.
Powerful Motor System - This SGILE Racing Car is powered by a powerful motor system that can push the car to a maximum speed of 15 km/hr. Give your kids the thrill and excitement of controlling this stunt car.
Impressive Design & Quality - Made out of premium ABS plastic, and non-toxic explosion-proof PVC materials, this racing car is safe to play for children. The SGILE Racing Car boasts an impressive body design with shiny green and cool surface finishing, making it look like a real racing car.
Easy Controls, Multiple Players - An easy to control remote controller with 2.4ghz transmitter strength, you can be maneuvered even from a far distance. Also, its strong transmitter power means no signal interference if multiple players race with you at the same time. Have an exciting time racing with your friends and family.
Double Fun - The SGILE Racing Car toy is equipped with a 4.8V 700 mAh NI-MH battery that lasts longer than other standard batteries. This means you can have double the fun every time you play with the SGILE Racing Car.
Bestseller No. 5
RC Helicopter, SYMA Latest Remote Control Drone with Gyro and LED Light 4HZ Channel Plastic Mini Series Helicopter for Kids & Adult Indoor Outdoor Micro Toy Gift for Boys Girls[Newest Model]
【Unique Design& Newest Model】Newest model Helicopter with unique design,it combined the shape of drone and helicopter,and the unique gift is suit for the unique you!
【Super Value with Helicopter Landing Pat】the aircraft we offer a landing pat, which is better for hobbyers to exercise.and 2.4G 4HZ channel, High&low speed -Up, Down, Left, Right, Forward and Backward built-in Gyro to hover in the air.very stable to fly.
【Aerobatic Flight】turn a circle upward while flying--press the left joystick by up and down the drone will upward by turned left or right while flying. It turns to circle by pressed joystick left and right. Beat 6 times while flying--press the right joystick by up and down the drone will beat 6 times while flying.the same as the joystick pressed by right or left.
【Best Gift to Kids】suit for Indoor Outdoor play for kids, beginners and hobbyist for Boys and girls. it is a best choice as a gift.
【Durable Helicopter】The helicopter with child-friendly flying toys features flexible blades for increased safety and durability.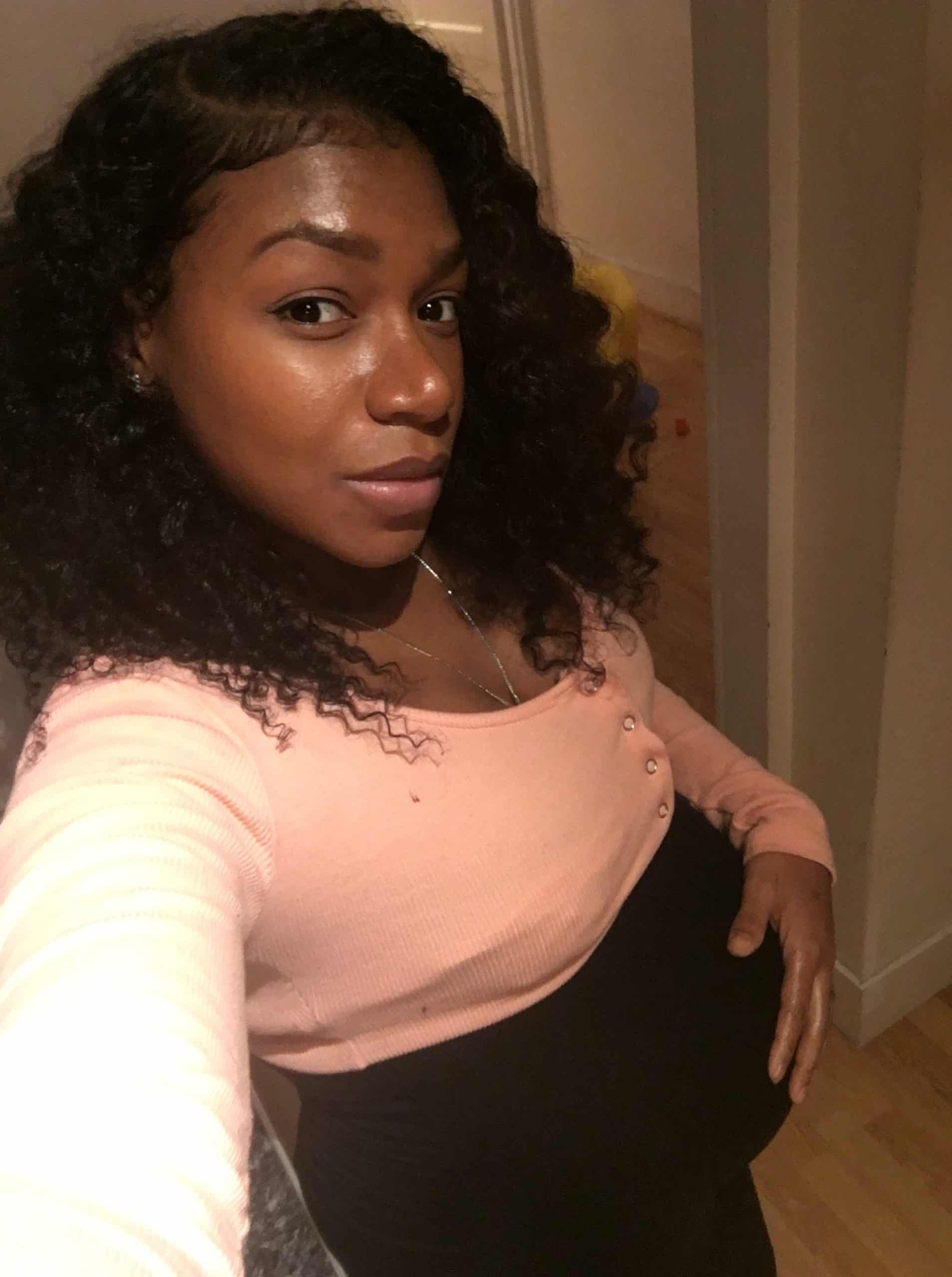 Iesha is a loving mother of 2 beautiful children. She's an active parent who enjoys indoor and outdoor adventures with her family. Her mission is to share practical and realistic parenting advice to help the parenting community becoming stronger.
A safe space for women to meet and find support!
The Mothers Community is a place to connect with women who are at a similar stages in life–from fertility, pregnancy and motherhood through to menopause.
Join a community who are there to listen, share information and offer valuable advice. Join Community
Take matters into your own hands! Expert advice for Fertility, Pregnancy and Motherhood! Discover More Here