Looking for the best rugs for babies to crawl on?
In A Rush? Check Out The Number 1 Pick Here:
Babies bring so much joy to our lives. They're essentially the angels everyone looks up to.
And, while God created entire heaven for his angels, we can at least give our angels a soft surface to roll and giggle on!
Yes! You got that right! We're talking about the best rugs for babies to crawl on. Let us be very clear, though.
Getting the right baby-rug isn't easy. It's not a décor for your living room.
It's the place where babies spend most of their time on.
Kids will be kids, and that means that they're sure to get into all sorts of trouble, especially when they're just starting out on their journey towards becoming independent human beings.
Keeping them safe is important, and that means keeping an eye on the rugs they play on as well.
So, your rug has to be safe, comfortable, and adorable at the same time. So, here are some suggestions to help you out!
[table id=37 responsive="collapse" /]
How To Buy The Best Baby Safe Rugs For Your Home?
There's nothing to worry about. All you need at for this is consider asking these three questions: –
Are All The Readily Available Rugs Safe For Babies?
To be honest, most rugs that advertise being baby-friendly are safe for babies.
However, you must understand the critical difference in available choices.
Rugs are usually made up of cotton, wool, polypropylene, acrylic, and even jute.
However, the best rug material for babies is undoubtedly wool.
That being said, woolen rugs are expensive and require high maintenance.
Polypropylene rugs, on the other hand, deliver almost similar comfort at a way lower price.
Can I Buy An Old Used Up Rug?
Contrary to popular opinion, you can buy and use old baby-friendly rugs.
Although you must ensure the condition, they are in.
Moreover, you must always get them dry-cleaned and sanitized before allowing your baby's tiny hands and feet to touch them.
How Do I Choose The Right Size For A Rug?
Unless you plan on putting a baby play fence around, your rug should cover your living room's entire seating area.
We are talking about the best rugs for babies to crawl on, right?
5 Baby-Friendly Rugs TO Consider For Your Home
This excellent piece of rug made to the very top of our list.
The ACTCUT comes in variants of fourteen colors and four sizes.
Its weight varies from a mere 13.4 ounces to 5.99 pounds.
That being said, the materials used to build this rug grant it a super light appearance.
It is made up of synthetic eco-friendly material that is also safe for babies.
It comes with a super mushy surface and an internal sponge layering.
The overall thickness of this rug goes roughly to 1.7 in.
It even comes fitted with rubber spots underneath the fluffy upper skin. This keeps it from slipping away.
ACTUT Area Rug is known for its durability and close to no maintenance requirements.
So, it is undoubtedly one of the best rugs for babies to crawl on.
Sale
PAGISOFE Soft Girls Room Rug Baby Nursery Decor Kids Room Carpet 4' x 5.3', Fuzzy Rugs for Kids Baby, Soft Rugs for Nursery, Dorm Shag Rugs for Girls Boys, Carpet for Teen's Room, Pink
Super Soft Feeling: velvet surface and the plush is approx 3cm high, very soft to the touch, plus skid-resistant rubber bottom, make your children and baby more comfy and warm when they play on the floor
Great Color: beautiful colors to choose from, they are cute and bright, brighten up your kids room and nursery, make the space seem pop and welcoming, do not wash with bleach, color will stay nice and vibrant
Perfect Size: the carpet is 5.3 feet long and 4 feet wide, It's a pretty decent size, perfect for right along the side of your bed, perfect for nursery decor, girls room, bedroom, living room, study, college dorm, under coffee table and front of your sofa.
Next on our list is the PAGISOFE.
This rug was specially designed for the little princesses. It has a plush velvety finish.
This ensures that your fairies feel its warmth and softness while playing their favorite games.
It even comes with preinstalled rubber mats at the bottom.
This keeps it from slipping and adds on to the safety of your babies!
This rug comes in eighteen different color variants, each one loved by the little girls.
The color options include pink, hot pink, greyish purple, red, beige, and even cream white.
It is even available in 5 different sizes that fit each and every space of the room.
Everything being said, this rug requires a bit of strict maintenance.
It is inadvisable to put this out for machine wash.
Doing so might tamper the fine weave of the rug and destroy its softness entirely.
It is good to wipe it off with a mildly wet clean cloth.
You may even wash the entire rug by hand on some occasions.
Ottomanson ranks 3rd on our list for a reason.
Ottomanson, as a company, makes one of the finest shags and rugs.
And, they've done complete justice to this piece of art as well.
This rug offers a smooth mushy finish on the surface that is safe for babies.
This is made possible by creating the rug with 100% pure polypropylene.
This is by far the best rug material for a baby.
Its inner and lower surfaces are made up of 100% jute, nonetheless.
This provides extra strength to the rugs while ensuring their durability.
The jute layering even helps with floor heat insulation, making the rug feel warm to the touch.
You babies can enjoy themselves while playing on this rug.
That's because the rugs are made with completely stain-resistant materials.
This even enables you to wipe off any dirt or dust that accumulates (if ever) on the rug's surface.
Thus, making it maintenance free! In short, this is the best alternative to the usual wool rug for the nursery!
Cozy Shag is enlisted as the 4th best rug for babies to crawl on in here.
The manufacturing company is known to produce tasteful rugs in astonishing designs and colors.
Most professional interior designers fancy these rugs. That's because of their wide range of usability options.
These rugs are usually suited for home-office spaces or small libraries.
However, they even come handy for installation in the children's room.
They are available in a variety of serene designs and colors. Furthermore, they're manufactured in Turkey.
This means that they have uncompromising quality over some usual baby safe rugs.
BlueSnail Super Ultra Soft Modern Shag Area Rugs, Bedroom Livingroom Sittingroom Floor Rug Carpet Blanket for Children Play Home Decorate (4' x 5.3', Rectangle, Pink)
Material: Synthetic area rugs - Super Ultra Soft beyond your imagination
Color: Pink, Apple Green, Purple, Grayish Purple, Silver Grey, Grass Green,Beige White, Coffee,(Expect to tell us the color you like)
Size: About 4 feet * 5.3 feet (120*160 cm)
The last name on this list is BlueSnail Super Ultra Soft Modern Shag Area Rugs, Bedroom Livingroom Sittingroom Floor Rug Carpet Blanket for Children Play Home Decorate (4' x 5.3', Rectangle, Pink).
The build of these rugs might feel a bit more like blankets.
These easy-to-install rugs come in a variety of 8 colors.
And, they have all the major components to be called baby-friendly rugs.
Verdict
We'll always go with the ACTCUT Area Rug for our babies.
The simple reason behind this choice is the value they provide for their price.
They have enough colors and sizes to choose from.
Moreover, they're made of baby-friendly materials. And, lastly, they are the easiest to maintain.
Related Post: When Can Baby Sit in Bumbo?
Bestseller No. 1
UANLAUO Foldable Baby Play Mat, Extra Large Waterproof Activity Playmats for Babies,Toddlers, Infants, Play & Tummy Time, Foam Baby Mat for Floor with Travel Bag, Indoor Outdoor Use (71" x 79")
【Extra Large Baby Floor Mat 】 The 79 x 71 inch Uanlauo extra large play mat can accommodate a family to enjoy happy moments together. Baby play gym mats offer a soft, comfy spot for your little one to relax, play and work on their developing skills. Lightweight design, can be folded into a compact size, easy to store or move, carry.
【Non-toxic Safe Material】Our baby mat for floor is made of high-density anti-scratch XPE foam material, non-toxic, odorless, and not easy to tear. It provides a soft and safe playing surface for toddlers and infants. The soft cushion is suitable for those hard floors and can provide sufficient cushioning, especially for when babies fall down.
【Reversible Sides Design】Our baby floor mat is reversible and has different patterns on each side. Animals prints will help develop kids' cognitive ability. Raised symbols including letters as well as numbers for sensory and learning. One of the sides is printed with a height ruler, you can record your baby's growth at any time. Anti-slip texture to prevent the baby from slipping easily when learning to walk.
Sale
Bestseller No. 2
Bestseller No. 3
ProSource Puzzle Solid Foam Play Mat for Kids - 16 tiles with edges, Assorted
Protective flooring - durable, high Density foam provides a Gentle surface and protection for your child in areas with hard floors
Easy Assembly - interlocking puzzle pieces are quick & simple to Assemble, easy to pull apart for storage and painless to clean
16 SQ. Feet - 16 interlocking 12"x12" puzzle pieces with 24 border pieces, covers a 4'x4' area when combined; or just use a few tiles to cover a small area
Bestseller No. 4
Baby Play Mat, Foldable Foam Play Mat for Floor,Waterproof Reversible Playmat for Babies and Toddlers, Infants, Kids, Edge Reinforcement Crawling Mat for Indoor Outdoor (79'' X 51'')
ENHANCED LAYERED DESIGN - The Blissful Diary play mat for baby boasts an upgraded design with improved technology and craftsmanship. The addition of a layer of reinforcement film on both sides of the baby floor mat makes it more resistant to scratches from your little one, offering a safer playtime experience compared to other XPE foam baby play mats available in the market.
SAFE XPE MATERIAL - Our baby mat for floor uses high density XPE foam material. It has great traction from the raised alphabets all over the mat to avoid baby fall down, great cushion for babies rolling, tummy time, crawling, sit up, stand and learning to walk,create a soft, clean safe place area for your little angel.
WATERPROOF & EASY TO CLEAN - The 100% water-resistant surface of this foam play mat makes cleaning up a breeze. Simply wipe it down with a wet towel. The waterproof layer also protects the colorful pattern from fading, ensuring long-term durability. This makes it a convenient choice for busy parents.
Bestseller No. 5
Baby Play Mat, 0.6" Thick Baby Crawling Mat, Extra Large Foldable Foam Floor Play Mat for Babies,Toddlers, Infants, Anti Slip Waterproof Non Toxic Portable Playmat with ABC and Animals (71" x 79")
Baby's Safety is the Priority - The foam play mat use XPE foam, BPA-free, non-toxic and zero smell. The ABC alphabet side add a layer of reinforcement film the baby floor mat makes it more resistant to scratches from baby. Fine edge sewing, anti-slip design of the baby play mat ensures your little angle safety. Parents can choose to buy with confidence.
Thicker & Extra Large - Each play mat is 0.6 inches thickness, which is thick enough for the baby to roll around without hitting head on the floor. This 79 x 71 inch tummy time mat provides an extra large, cushioned space for babies to love tummy time and safely perform milestone exercises like rolling, sitting and standing.
Double-Sided Pattern - Adhering to the concept of both education and aesthetics, we have designed a baby play mat with animals and letters on one side and a modern minimalist style on the other. Animals and letters can effectively stimulate the baby's imagination and cognition, and the modern minimalist style allows your room to be simplified and experience the beauty of simplicity.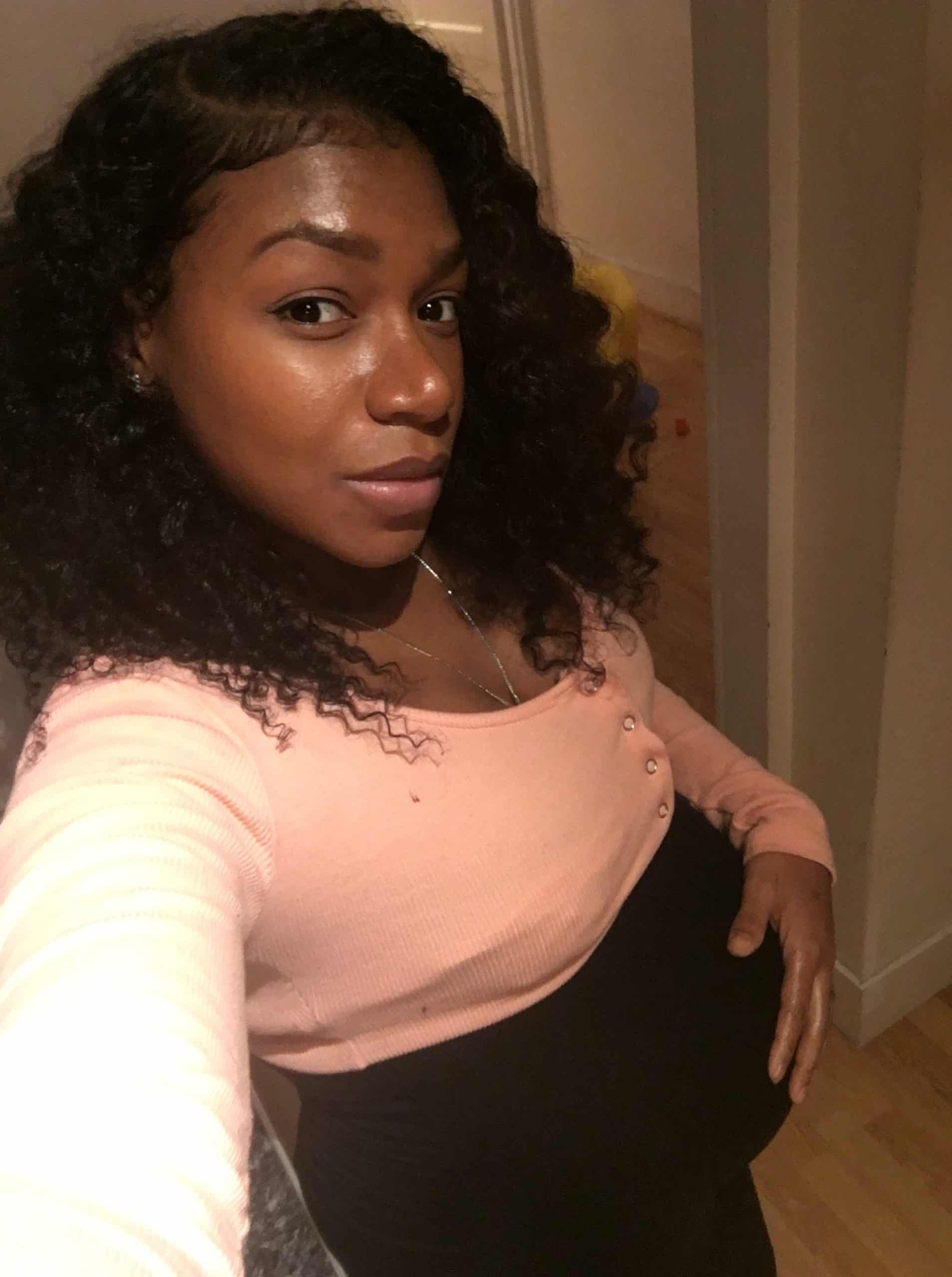 Iesha is a loving mother of 2 beautiful children. She's an active parent who enjoys indoor and outdoor adventures with her family. Her mission is to share practical and realistic parenting advice to help the parenting community becoming stronger.