Looking for the best travel bottle warmer?
In A Rush? Check Out The Number 1 Pick Here:
Find a warmer that is compact and lightweight to make travelling easier.
Some bottle warmers are designed to be used with specific bottles, while others can be used with a variety of different types of bottles.
It's not as easy as it seems.
With so many brands and even more products available online to buy it's difficult to know which is the most convenient for you.
Parents debate whether they need a travel bottle warmer or not as there are other ways to warm milk.
However, if you want the safest way to warm a bottom then a high quality, portable, and certified bottle warmer is the way to go.
Knowing that temperature is always constant, the timing will always be on point and it being a convenient practical item to use is usually all parents need to pick one up.
Whether you are looking for an electric bottle warmer, a bottle warming bag, a simple portable bottom warmer, or even once the is warmed in the car we've done the hard work so you don't have to.
We've compared the best travel bottle warmer available to buy and below are our top 5.
[table id=7 responsive="collapse" /]
Best Travel Bottle Warmer
1. Kiinde Kozii Voyager, Compact Travel Bottle Warmer
The Kiinde Kozii Voyager, Compact Travel Bottle is great for parents who are always moving, on the go, and travel a lot.
Coming in three parts you will see how useful the thermos bottle is, in the day time and 2 insulated warming cups to use at night.
The separate warming cups are also different sizes so you can use them for bigger or smaller bottles
It takes around 5 – 10 minutes to warm up the bottle if you use normal hot water from the tap or around 2 – 3 minutes if you use boiling water.
Overall it's still quite efficient in terms of time and is designed with a purpose in mind.
it's functional and practical and comes at an affordable price.
The best part is you can carry it anywhere as it will fit into your bag or carry on.
this gives you the option to be able to warm milk anywhere you go as long as you have hot water nearby.
PROS:
Works everywhere

Very Affordable and Sturdy

Fits Big baby bottles
CONS:

Weighs more than competitions

Is unable to keep a bottle warm for the entire day
2. Tommee Tippee Closer to Nature Portable Travel Baby Bottle Warmer
The Tommee Tippee Closer to Nature Portable Travel Baby Bottle Warmer is a dynamic BPA Free travel bottle warmer.
This is a portable high-quality bottle warmer that needs hot water to work.
It comes with an insulated thermos that you just need to pour hot water in and a simple plastic cup that you use to warm the bottle up in.
The great thing about the Tommee Tippee Closer to Nature Portable Travel Baby Bottle Warmer is that the thermos is built with high-grade materials that allow the water to stay hot for hours an end.
Made from stainless steel is the perfect material and is extremely easy to clean.
Another great feature is the insulated bottle that is leak-proof.
This means you can throw it into any bag and you won't get any spillage.
As the plastic cup cap is wide is easy fits most bottles and gives it a dynamic and durable feel.
It's a safe and secure portable bottle warmer.
PROS:
Water stays hot for hours

You can keep the cap on the thermos to pour water

Efficient, practical, sturdy and made with stainless steel
CONS:
Can be very heavy when the thermos is full
3. Munchkin Travel Car Baby Bottle Warmer
The Munchkin Travel Car Baby Bottle Warmer is a smart choice for parents that are on the go, like to travel and are outgoing.
It has an intelligent adapter that plugs into your car and is very simple to use.
It features a smart digital screen that displays how much heating time is left and even the temperature of the milk.
This interactivity means this portable bottle warmer comes highly recommended.
This light-up display is very easy to use, even in the night.
The heating band is elastic, which means it can fit practically any baby bottle.
This makes it dynamic and fit for purpose.
Although it's a little o the pricey side it's well worth it as you can use heat up baby's bottle anywhere you go and at any time without having to worry about power.
PROS:
Lightweight and portable

The interactive display gives accurate timing and temperature

Durable Elastic band will work with most baby bottles
CONS:

Car adapter may not work in every car

It's on the slower side
4. Philips Avent Fast Baby Bottle Warmer
The Philips Avent, Baby Bottle Warmer is a lightweight portable baby bottle water that you can take on the go.
It's a great choice for families that are always out and about and works well when you are on vacation or holiday for a few weeks.
It heats up bottles in under 3 minutes and even has a reservation option that will keep the bottle warm for hours.
Phillps is a reliable brand they take pride in their baby products and it shines through with this product.
It features a wide opening that will fit just about any bottle and most brands including Philips.
It's a practical baby travel bottle warmer that is simple to use and functional.
Al you have to do is add water, turn the dial to the setting you want and it's done.
It has some of the best reviews for travel bottle warmers so we'de highly recommend it.
PROS:
Efficient and Practical

Fast heating mechanisms that hold heat for hours

Lightweight & Affordable
CONS:
No built-in timer
5. Chicco NaturalFit Digital Bottle Warmer
The Chicco NaturalFit Digital Bottle Warmer is a fantastic interactive travel bottle warmer.
It features an LCD display with a high tech Digital Countdown and Ready Alert,
This functional bottle warmer is suitable for home or travel use and is made from a reliable brand.
As it is lightweight and can fit into most small bags it is the perfect travel companion.
It takes up the same space as a normal everyday thermos bottle warmer, which means it's minimalist but effective.
The best part about The Chicco NaturalFit Digital Bottle Warmer is that has an auto shut off feature if it runs out of water.
This is a smart safety feature that you will love as running out of water happens quite often without you knowing.
The digital display will give you the option to select the temperature that you are heating from i.e. room temperature, refrigerated, and frozen.
It can work with most other baby bottles and brands and even has a delayed start option that can come in handy.
This user-friendly baby bottle warmed is practical and efficient and makes our top 5 list.
PROS:

12 heating options

Includes an insert for small bottles and even food jars

Compatible with most baby bottles
CONS:
A little on the pricey side

Unable to keep a bottle warm for too long
These are the Best Travel Bottle Warmer we recommend. Whichever you choose make sure you put safety first!
Verdict
This is our top pick!
Sale
Bestseller No. 1
Tommee Tippee Closer to Nature Portable Travel Baby Bottle Warmer - Multi Function -  BPA Free
Warm baby's feed on the go: The travel warmer securely stores hot water and keeps it hot so it's ready to warm baby bottles or food on the go
Closer to Nature compatible: The travel warmer is specially designed to hold Tommee Tippee's Closer to Nature baby bottles and a wide range of branded baby food jars or pouches
Thermal insulation: The flask's thermal insulation keeps water warm and doesn't require an external heating source – perfect for days out!
Bestseller No. 2
Portable Bottle Warmer, Baby Milk Heat Keeper with LCD Display, USB Warmer Bottle for Car Travel, Bottles Warmers on The go (Blue)
【WIDE VOLTAGE AND SAFE】 Milk warmer adapts to 9V voltage output power for 18W to improve heating efficiency, effectively responding to different usage scenarios. This portable baby bottle warmer is made of PU material, safe and insulated.
【FASTER HEATIN】 The baby milk warmer adopts imported temperature sensing chip to heat accurately. When using QC18W fast charging , it only takes about 20 minutes to quickly heat 200ml of water from 25°C to 40°C. When using a 9V, it has the effect of heat preservation or slow heating, and it can be heated intelligently to maintain a constant temperature.
【6 LEVEL TEMPERATURE SETTINGS】The Portable Bottle Warmer has six temperature settings: 40°C, 42°C, 44°C, 46°C, 48°C, 50°C (104°F, 107.6°F, 111.2°F, 114.8°F, 118.4°F, 122°F), Set different temperature according to actual needs. With LCD display to show temperature.
Sale
Bestseller No. 3
Bottle Warmer, Fast Heating Portable Bottle Warmer with 4 Adapters, Rechargeable Travel Bottle Warmer with Smart Temperature Control, Cordless Baby Bottle Warmer for Breastmilk or Formula
👶 EASY TO USE & STRONG COMPATIBILITY: The baby bottle warmer is easy to use. Just screw milk bottle directly into the unit, or fit it with the appropriate adapter, then press the power button and, within a few minutes, you can feed your baby. This includes 4 different sizes of adapters to fit like the brand of Dr Brown's 50mm, Dr Brown's & Medala 40mm (Not compatible for Dr Brown's GLASS baby bottle), Tommee Tippee 60mm, Comotomo & Boon 70mm.
👶 SAFETY HEATING & LEAK-PROOF: Our bottle warmer features a glass heating plate, making it safe, odor-free, and free of harmful substances. The 304 contact sensor prevents the damage of the bottle warmer caused by dry burning. The heightened design of the adapter and the design of the splash-proof silicone O-ring further solve the problem of milk leakage. Kindly Note: Don't lose the sealant O-rings in the adapter or on the warmer. If you do, it will leak
👶 PORTABLE FOR TRAVEL & CORDLESS DESIGN: The travel bottle warmer is compact, so it fits easily into purses, and diaper bags. Our portable bottle warmer is a great choice for your home, office, travel, and even outdoor picnics. The warmer has a built-in 10,000mah rechargeable battery. It allows you to charge your warmer anytime and anywhere (Type-C charging cable is included)
Bestseller No. 4
Papablic Mini Portable Travel Baby Bottle Warmer
Warm Baby Bottle Anywhere: Easy to carry with a portable design and simple to use for warming milk without electricity! A waterproof seal ensures water stays put until you're ready to use it.
Heat Fast and Safety: Ideal for on the go. Warm milk safely, quickly, and evenly so your baby can enjoy a nutritious meal wherever you are. This vacuum-insulated warmer keeps water hot all day.
Lightweight and Compact: Similar in size to a water bottle or Thermos, this space-saving solution fits perfectly in your diaper bag!
Sale
Bestseller No. 5
BabyBond Baby Bottle Warmer, Portable Bottle Warmer for Most Bottles Rechargeable Travel Bottle Warmer Cordless for Baby Milk Breastmilk with Precise Temperature Control (Grey)
🔥Quick Heating & Precise Temperature Design: The BabyBond portable bottle warmer boasts a quick heating function that can warm 120ml of milk to 98℉ in just 3 minutes. With 5 regular temperature settings and 13 precise temperature settings, you can easily achieve the perfect temperature for your baby's food. This allows you to customize the temperature to your exact preferences, ensuring that your little one's milk is always the right temperature.
👜Portable for travel & cordless design: The BabyBond travel bottle warmer features a cordless, battery-powered design and is incredibly compact, making it easy to pack in your baby bag and take with you on the go. This means that you can feed your baby anywhere, making traveling with your little one a breeze. Additionally, the included formula dispenser simplifies the feeding and eliminates mess, ensuring that you can easily and quickly prepare your baby's meal wherever you are.
🔋Super Battery Capacity: The portable baby bottle warmer features a large battery capacity that can last for 30-40 minutes after a full charge, which typically takes between 3 to 4 hours (but shouldn't exceed 4 hours). Additionally, it comes with a USB charging cable, making it an ideal solution not only for shorter day trips, but also for longer excursions such as office workdays, vacations, or road trips. However, please note that the device cannot be used while charging.
Related Post: How Long to Microwave Milk?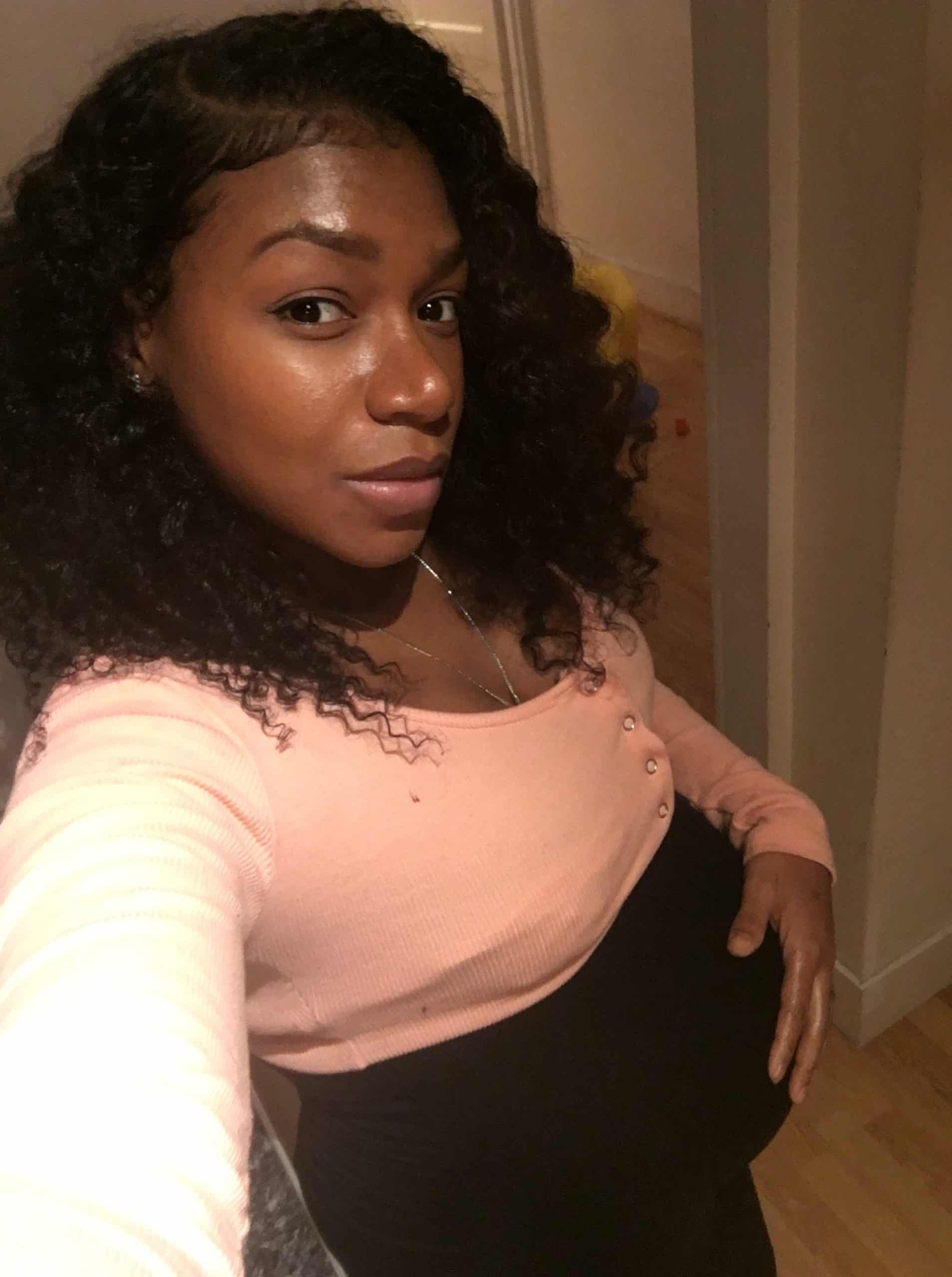 Iesha is a loving mother of 2 beautiful children. She's an active parent who enjoys indoor and outdoor adventures with her family. Her mission is to share practical and realistic parenting advice to help the parenting community becoming stronger.