-- Discover a safe space for women to meet, listen and share valuable advice!
The Mothers Community is safe online community sharing advice on fertility, pregnancy and motherhood through to menopause. Join Community Here --
It is normal for pregnant women to worry if they are having a normal pregnancy.
This is particularly true for first-time expecting moms when they hear some comment from other people about their baby bump.
One of the comments that usually scare pregnant women is why they have a plus size pregnancy B belly
The reason behind this is that when you think of a pregnant woman, you usually imagine her with a round bump on her belly.
This sets a misconception that all pregnant women will have a round belly as the baby starts growing.
Unfortunately, this isn't always the case. Pregnant bellies come in different shapes and sizes.
plus size pregnancy B belly is just one of the different forms that a baby bump can turn out to be.
But what exactly is a B belly and should you be alarmed if you suddenly see this on your own body?
Plus Size Pregnancy B Belly
As you progress to your second trimester, you may have looked at yourself in the mirror and noticed that it looks like you have a couple of pregnancy bumps.
There may be a crease in the middle, which makes it appear like your belly is divided into two.
True to its name, a B belly resembles an uppercase "B" letter.
The common pregnant belly shape is a capital "D" letter, which may make yours seem a little scary since there is no division in the middle.
This may sound scary but it's actually not a cause for alarm. But what causes a B belly to appear in pregnancy?
While B bellies are common in women with more weight, they can still appear with any body shape and size.
This is because there are many factors that can affect how your pregnancy belly will look like:
1.) Your Height and Size
The Centers for Disease Control and Prevention (CDC) states that women with a body mass index (BMI) between 25 and 29.9 are overweight while those with at least 30 BMI are obese.
Women with more weight typically have a B belly at the start of their pregnancy. But a plus size pregnancy B belly isn't always the case.
Your body shape will also explain why you have a B belly during your pregnancy.
2.) Your Regular Belly Shape
If you already have an apron belly before you got pregnant, it is likely that you will have a B belly too.
3.) A Previous Pregnancy
Another reason why you may have a B belly is because of your previous pregnancy.
This is because the muscles in your stomach loosen up in your first pregnancy. And when you get pregnant again, the shape tends to expand a little faster.
It usually happens when you have a couple of pregnancies that are closer together or if your body has not yet returned to its pre-pregnancy shape.
4.) Fascial Health
This refers to the connective tissues beneath the skin in your belly. Your fascia may get damaged as caused by dehydration, stress, injured muscles, poor posture, an unbalanced diet, or a sedentary lifestyle.
In addition to this, a previous pregnancy can also damage your fascia.
The best way you can protect your fascia from damage is to stretch regularly, drink lots of water, and do some yoga or cardio exercises.
5.) Diastasis Recti
Another reason you may have a B belly is diastasis recti, which happens when there is too much accumulation of pressure in the inner abdomen.
As your belly stretches, the space between the right and left stomach muscles also widens.
After delivery, it usually corrects on its own when it starts to regain its strength.
How to Get Rid of B Belly During Pregnancy
While there is no need to worry when you have a B belly, there are still some women who feel conscious about their pregnancy bellies.
But there really isn't anything special you can do to get rid of the shape of your belly.
It may be different from your expectation, but it's still considered normal. You don't really need to get rid of it as it will go away after you give birth.
At the same time, your belly shape changes throughout your pregnancy.
If you have a B belly in your first trimester, your belly may grow bigger and turn into the more common D shape.
Some women also say that their B belly becomes less obvious when their weight starts to change.
1.) What to Wear if You Have a B Belly
While a B belly is pretty normal, it also brings about some health concerns to women who carry it.
The most common health concern is back pain, which may happen if you have a B belly. This is why it is important to use a belly band during your pregnancy.
A belly band can help give you extra comfort and support to carry the weight of your growing baby. At the same time, it can help smoothen out the B shape.
Another option is to use a pair of maternity leggings that fit well with your bump. This will also give you the support you need for your growing belly.
2.) Will a B Belly Change to D Shape?
While it is not always a guarantee, there are some plus-size women who develop a D shape as their pregnancy progresses.
Some believe that transitioning to a D shape belly can be an indication that you are due for delivery. But it is not always the case.
Instead of trying to hide and worrying about the appearance of your B belly, you should embrace it and be proud that you have a normal and healthy pregnancy.
Are There Any Health Concerns of a B Belly?
The shape of your B belly is not something that your doctor may be alarmed about. But if your weight is what is causing the shape to form, your doctor may want to talk to you about some health concerns.
1.) Health Concerns
If you are carrying more weight, you may be at risk for the following:
Gestational diabetes

Miscarriage/stillbirth

Preeclampsia or high blood pressure

Back pain
Also, if you have a high BMI, it may put your baby through some pregnancy complications such as:
A bigger birth size

Preterm delivery
Because of this, your doctor may advise you to monitor your weight gain and make sure that it is spread out over the course of your pregnancy.
2. Emotional Concerns
More commonly though, your biggest challenge with a B belly is the emotional concerns that come with it. Since your belly shape is different from what usual bellies look like, you may feel frustrated at this fact.
But you have to understand that a B belly can happen to anyone, no matter what size or shape their belly is.
If you hear someone make a rude or insensitive comment about your belly shape, try your best to console yourself.
What you feel is normal and valid. Find reassurance in knowing that your baby is growing normally and safely in your belly no matter what shape may be.
Frequently Asked Questions
When does your stomach get hard during pregnancy plus size?
A pregnant belly usually hardens when there is too much stretching of the abdominal muscles. Usually, this occurs between weeks 7 and 8.
For some women, the lower abdomen may look more swollen and harder compared to when you weren't pregnant yet. This is completely normal.
How can I hide my B belly?
The best way you can hide your B belly is to use a belly band or maternity leggings that will give you the support you need.
You can also wear a larger-sized maternity dress over your belly band or leggings so you can conceal the area where your belly separates.
Is it okay to be plus-size and pregnant?
Even if you are a plus-sized woman, you can still have a healthy pregnancy and baby.
Frankly speaking, there are some health risks and complications that may arise. These, however, are manageable and may even be preventable in some cases.
The important thing is that you regularly get checked by your OBGYN and that you follow his instructions throughout your pregnancy.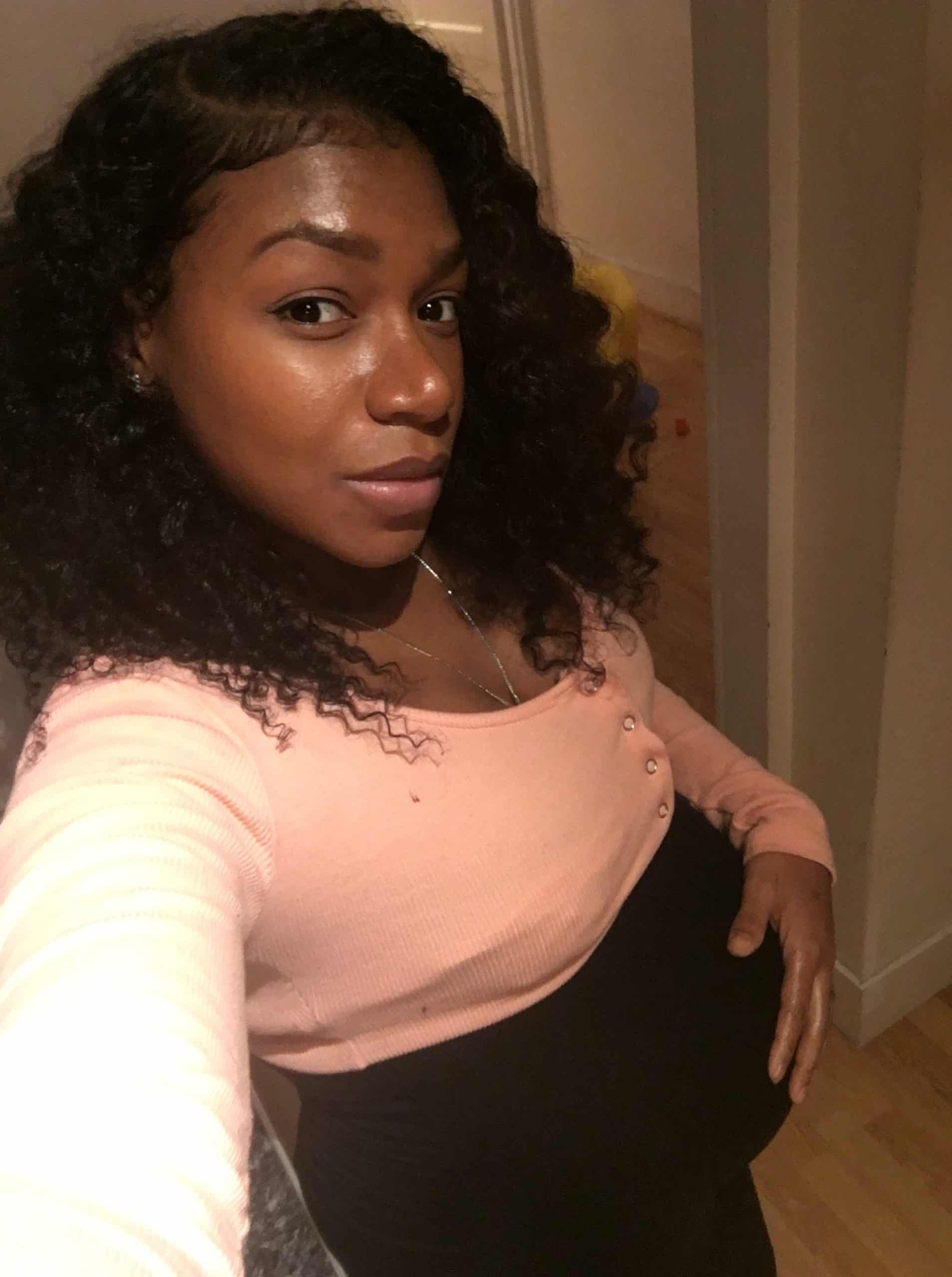 Iesha is a loving mother of 2 beautiful children. She's an active parent who enjoys indoor and outdoor adventures with her family. Her mission is to share practical and realistic parenting advice to help the parenting community becoming stronger.
A safe space for women to meet and find support!
The Mothers Community is a place to connect with women who are at a similar stages in life–from fertility, pregnancy and motherhood through to menopause.
Join a community who are there to listen, share information and offer valuable advice. Join Community
Take matters into your own hands! Expert advice for Fertility, Pregnancy and Motherhood! Discover More Here