In this article, we'll review the Schwinn Deluxe Child Carrier.
If you a parent who enjoys a relaxed bike ride and also wants their child to experience the ride, we have just the right thing for you.
A child carrier is a framework installed into the adult bike and has multiple safety features, which keeps your child securely placed right at your back while you ride your bike.
It is an excellent way of family bonding and enjoying nature while making sure the kid is comfortable and safe.
Schwinn is a 100-year-old American brand for bikes and is truly a brand you can trust.
The brand manufactures the deluxe carrier for kids and toddlers, one of the best mounted bike-seat frames available today.
Let's discuss the features of the Schwinn Deluxe Child Carrier in detail.
Features
The following features are what make the Schwinn deluxe child carrier unique.
The bike comes with a convertible footrest.
This forbids the legs of your child does not have feet dangling in the air and causing discomfort.
It has Velcro restraints, which ensure that it will still appropriately fit the child's legs even if the kid grows.
Besides being safe, the seat boasts comfort for your child.
It has a soft cushioning that supports the back, and the seat has enough room for an average kid to feel comfortable.
The seat also has holes at the back, which are appropriately sized to ensure airflow from behind and keeps the child calm, relaxed, and fresh.
This additional feature of a padded crossbar at the front of the seat ensures the kid is securely fastened in his place and not accidentally falling.
It also ensures that your kid is holding onto something in case there are sudden brakes applied.
Schwinn deluxe child carrier emphasizes on child safety.
And to ensure that, it has a 3-point harness that can be quickly released and fastened.
It also flaunts bike spoke guards, and a seat spring guard keeps the child's hands from the moving parts of the bike, which is very helpful during any impact.
These guards and known to increase the carrying capacity of the bike as that makes the carrier stiffer.
Detachable and Adjustable Backrest
Another essential feature that one may tend to skip is the adjustable backrest.
If it is a long ride, your child may want to lean on something to get some support on the neck and spine.
An appropriate height headrest is something that your kid will appreciate.
Lightweight Construction and Compatibility
If you are deciding upon adding a seat at the rear of your bike, you will have to consider its weight as it will ensure balance and stability, and durability.
The seat is constructed out of polypropylene and is therefore light and sturdy.
This seat is also adjustable to most bike models and sizes and gives a perfect fit.
Comfort
The Schwinn deluxe child carrier can be installed using a screwdriver, without much effort.
And if you wish to detach it, all you have to do is dismount the seat with a screwdriver and convert it into a cargo rack.
The seat is positioned at the rear end of the bike, and this placement does not hinder a smooth and steady ride.
The seat's position is such that it allows the adult to flex his legs, and the child can position his legs comfortably without being collided.
The child is hidden at the back of the adult such that they do not have to feel the gushing wind and feel discomfort.
As mentioned above, it is lightweight, therefore, does not feel like extra weight to the rider.
It can be a great baby carrier for hot weather.
Related Post: Schwinn Double Jogging Stroller Review 2021
Safety
As mentioned earlier, Schwinn deluxe child carrier priorities safety above everything else.
The quick-release 3-point harness keeps your child in place.
Also, the padded crossbar gives additional support for the kid to hold on to during sudden brakes.
The buckling system is easy to operate and also very secure.
Portability
What makes this seat, so lightweight is the polypropylene construction.
The seat is effortlessly mounted towards the rear end of the bike, with the help of just a screwdriver.
It is light and highly portable and can be easily dismounted too.
Accessories
The Xmifer Oversized Bike Seat can be acquired additionally with the Schwinn Deluxe Child Carrie.
The seating is made up of high-density foam, and dual springs can relieve pain that may have caused during long riding hours.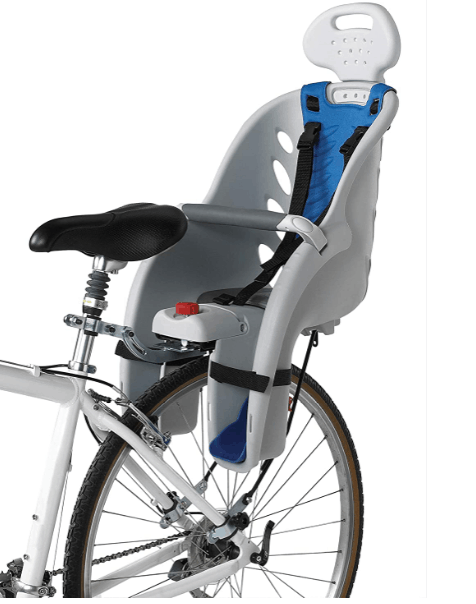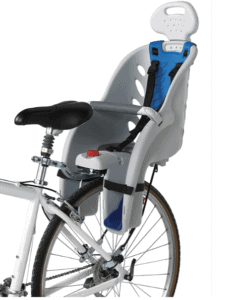 Verdict
The highly portable, lightweight material of the Schwinn deluxe child carriers is what makes it so desirable.
Keeping all the safety and comfort points into consideration, this product is a steal, as it also comes within a budget.
It provides a functional and comfortable experience for both you and your child.
We would suggest you get your hands on this product, as the quality and comfort are beyond comparison.
Frequently Asked Questions
How do You Install a Schwinn Deluxe Child Carrier?
First and foremost, ensure all the equipment and hardware that comes with the rack are in place.
Then, secure the frame onto your bicycle. Schwinn Deluxe child carrier base should fit most bike setups.
The rack should attach to both the seat and spoke area. In total, you should screw four bolts to attach the base to your bicycle.
Two on either side of the bicycle's scope and two on the upper mounting area near the bike's seat.
Double-check to ensure all the bolts are tight. The rack has to be precisely in place as tightly as possible to avoid the whole unit from falling off.
Then, go ahead and secure the baby seat on the rack. The baby seat should automatically clip to the front ( near the bike's saddle ).
Likewise, there is a safety bar that typically clips on the rack. Hand-crack the tighteners on the bottom of the seat.
There is a safety clip on the front of the chair that should clip around the bike's saddle. Attach the safety clip for ultimate security in case anything is to come loose.
Finally and most importantly, ensure your little one is tight and secure in their seat before setting off.
How can I Bike With my Two Kids?
It's possible to use a child carrier both on the front and back of the same bike. It's an affordable and feasible option.
However, it can be a bit unwieldy, especially as you balance and manoeuvre the bike through corners or uneven surfaces.
A double trailer is more convenient for hauling two toddlers at the same time. However, you must ensure both kids can sit upright.
Still, it might be challenging to interact and keep an eye on your children.
Alternatively, you might consider getting a long-tail style cargo bike that can fit two rear child seats.
What Age Can a Baby Ride on a Schwinn Deluxe Child Carrier?
As a rule of thumb, child carriers are ideal for children aged between 9 months and four years.
However, it depends on whether your child can sit up unsupported without cushions and fully support their head and their weight.
Also, due to the adjustable backrest feature, toddlers as young as nine months can tag along in a Schwinn Deluxe child carrier.
However, it's best to cycle with kids older than 12 months and weighing not more than 40 pounds (18kgs) on a Schwinn Deluxe child carrier from the manufacturer's perspective.
Yes, I know this child carrier might seem sturdy enough to take a heavier child.
Not that the carrier will break, but it may affect the bicycle's handling, making it progressively defective.
Can You Install a Schwinn Deluxe Child Carrier on The Front?
Ideally, Schwinn Deluxe child carriers can fit on the rear of most bikes. This, however, shouldn't deter you from a smooth and enjoyable ride.
Also, it's much easier to attach and detach the carrier on your bike. Not to mention, rear child carriers, including the Schwinn Deluxe, have a higher weight capacity.
Are Front Bike Seats Better?
It all depends on your preference. While front-fitting seats offer a better riding experience to your child and easier visibility and talk time with your toddler, they may not be suitable in some instances.
For example, tall people tend to pedal awkwardly. Mostly, you have to splay your legs slightly to fit in the shape of the bike seat.
Also, steering can be pretty stressful, especially if your toddler is a bit tall. Not to mention, children tend to outgrow front bike seats quickly. ( Around 24 months ).
Still, front-mounted seats offer better balance, especially over bumps.
Before acquiring a front printing seat, it would be best to hire or rent one first.
This way, you can ensure that it's compatible with your bike, you can see clearly, and your legs can pedal without obstruction, and you can turn without difficulty.
Do Babies Need a Helmet on a Schwinn Deluxe Child Carrier?
Absolutely Yes. Regardless of the type of bike carrier, children must wear an authorized helmet every time you ride together.
It's more of a safety precaution than a law requirement.
If your child finds the helmet too heavy or affects their comfort, then maybe they aren't yet ready to travel on a bike.
I know the fact that a Schwinn Deluxe child carrier doesn't come with the child helmet can be off-putting, but it's vital to acquire a standardized child helmet with a compliance label before embarking on any ride with your little one.
Is It Hard To Ride a Bike With a Child Seat?
Carrying the extra weight of your child can make cycling a bit vigorous than it used to be.
However, with adequate planning, getting used to it, and some safety precautions, riding a bike with your child will become one of the most enjoyable and enthralling experiences for you and your child.
Most importantly, never tag your child along if it's your first ride ever. Instead, get some training, practice severally and until you master the skill and garner confidence on your bike.
Then, try loading the seat with some extra weight to get a hold of the effect that impacts your riding abilities.
On the first ride with a child, be slow and don't try out too many complex things.
You might feel nervous for the first few rides, which is okay. With time, you will get used to having your little one on board and seeing how much fun they are having on the ride will eventually soothe your nerves.
Can You Put a Schwinn Deluxe Child Carrier on a Full Suspension Bike?
Unfortunately, bicycles with rear suspension and complete suspension bikes may not be compatible with the Schwinn Deluxe child carrier.
In addition, most full-suspension bicycles, such as mountain bikes and off-road bikes, are not well suited for rear-mounted child seats.
Instead, you can try out a front-mounted child seat for most full-suspension bikes.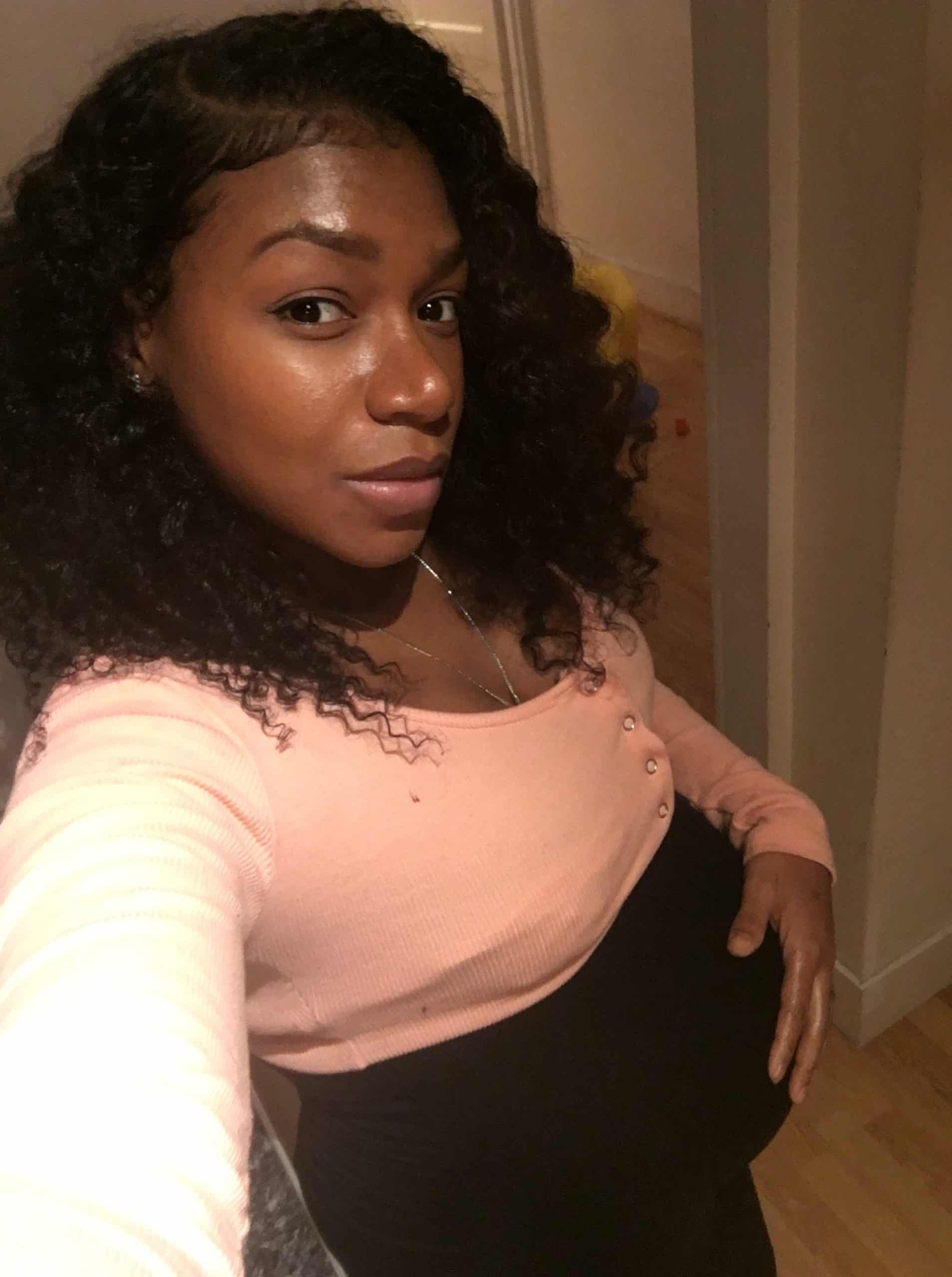 Iesha is a loving mother of 2 beautiful children. She's an active parent who enjoys indoor and outdoor adventures with her family. Her mission is to share practical and realistic parenting advice to help the parenting community becoming stronger.