Looking for practical Ways To Announce Pregnancy To Family In Person?
Finding out that you're expecting can be an exhilarating and scary time for the parents to be.
Apart from just thinking of all the things you need to get ready for the baby, you also have to figure out how to break the good news to the people closest to you.
Here are some ways to announce pregnancy to family in person and what to keep in mind before you do.
What To Consider Before A Pregnancy Announcement
Due to social media's broad reach, a pregnancy announcement in person is no longer strictly necessary.
In fact, you can just put up a post and reach all your family at once, even if they are not close by.
However, if you want to keep it old school, timing is a huge factor.
For one thing, if your family lives far away, you need to figure out a convenient time for you to travel there or for you to go to them.
Also, you might also want to wait to share the news until after the first trimester to make sure everything's okay.
Some mothers also wait until they know the sex of the child before telling anyone.
You can also take time to figure out who needs to know first and what you'll need from them in the future.
Here are 10 topics to discuss before having a baby
1. When is the best time to announce your pregnancy?
You should never rush into telling people about your pregnancy. Always make sure you are ready before you tell anyone your big secret.
Usually, people wait until after the first trimester before they reveal their big news. But there are also those who tell their families a few days after they know they are pregnant.
If you plan to surprise your family, you can wait a few days to plan out everything. This way, you can also savor this moment with your spouse.
2. How do you announce your pregnancy to your family?
Don't stress about how you're going to tell your family that you're pregnant.
You may want to make it as memorable or simple as possible.
Just make sure that you go for the option that you are most comfortable with.
Related: Best Camera For Moms
Ways To Announce Pregnancy To Family In Person
Now that you've decided that you want to announce your pregnancy to your family in person, it doesn't have to be boring.
Make it a party, get the camera ready, and try one of these fun pregnancy announcement ideas:
1. Use Balloons
Use balloons, especially when you know whether you're having a boy or a girl. You can stuff them with blue or pink glitter, and have your family pop them to see what you're expecting.
2. Involve Your Pets
Use your pets to announce the good news. You can tie a banner around their bodies or have them carry a placard with your pregnancy announcement when your family is around.
3. Wear Your Announcement
Instead of just blurting it out, you can use T-shirts and be a little more subtle. These can be custom-made to say that you're pregnant, and you can wear them around your family. You can also get some made and printed to show how they are related to the baby.
4. Print Out Your Sonogram
You can use your sonogram picture as a clue that you're pregnant. Just replace a visible picture in your house with it when your family is around. You can then share the good news with them once the questions start.
5. Let Them Have Cake
If you and your family have a sweet tooth, why not use cake? You can have it decorated with baby items, such as a baby bottle and booties. If the cake isn't your thing, you can also go with baby-shaped candy or cookies.
6. Go On A Hunt
You can set up a scavenger hunt or a puzzle inside your house where the final reveal is news of your pregnancy. It is something that both the adults and children in your family can enjoy.
7. Custom Mugs
You can also make your big announcement in the form of a gift.
Have some custom-made mugs printed with the words "Promoted to Grandma" or "Greatest Aunt in the World."
This gesture will surely surprise the recipient of these mugs.
8. Involve Your Kid
If you already have a kid, you can have him wear a shirt that reads "Big brother."
Be prepared to get shocked reactions from your friends.
9. Music Video
If you know how to edit videos and you still have the energy to shoot one, you can make a music video and share the link with your family and friends.
This is a great way you can make the announcement to family and friends who are away from you.
10. Pregnancy Announcement Gift Box
You can also order a pregnancy announcement gift box from various stores. There are a lot of these that you can find online nowadays.
11. Host Dinner
If you want a simple way to announce your big news to your family or friends, it is best to do it over a delicious meal.
You can choose to make the big announcement before or after everyone has eaten dinner.
Pregnancy is a big deal, and it matters how you tell the people you love about it.
If there seem to be countless ways to announce pregnancy to family in person, don't worry about it!
Just try these great tips, and start celebrating new life with your family.
Frequently Asked Questions
How Do I Tell My Parents I am Pregnant at 21?
It's okay to feel confused and scared, considering that you don't know how your parents will react.
All parents are likely to respond to the news differently depending on their liberal values. Figure out an appropriate time to tell your parents about the news.
They will need time to process the information.
Figure out what you are going to say. Are your parents aware that you have a partner, or you are sexually active? Don't scare them into the conversation.
It's best to avoid saying," I have terrible news." Instead, compose yourself, keep calm and tell them that you are pregnant and need their help.
It's best to be as straight as possible.
Your parents will have a strong reaction and will have tons of questions to ask you.
If they yell, don't yell back. It can be helpful to tell your parents that you understand their feelings and point of view.
For instance, you can say," I know this is not what you expected of me."
Although it may be daunting to tell your parents, you will soon feel much better than keeping the news to yourself.
Most parents will instinctively be supportive once they've had time for the information to settle in.
What Week Can You Determine Baby's Gender?
Doctors can determine your baby' gender during your scheduled ultrasound visits.
Most medical practitioners schedule ultrasound visits at around 18-21 weeks of pregnancy.
Although, it may be possible to tell as early as 14 weeks, depending on the baby's position.
Knowing your baby's gender can be exciting and helps you in preparation for the newborn's arrival.
Some parents, however, might prefer the anticipation of learning the baby's sex in the delivery room.
How Do You Announce Pregnancy to Family In Zoom?
Announcing pregnancy through a video call is the closest you can to an actual face-time with your loved ones.
It's better compared to a phone call since you can capture your family's emotion when you share the good news.
As in actual face-time, there are several fun ways to announce fantastic news.
You can hold up your sonogram picture in the middle of the conversation and capture them entirely off guard.
You can be wearing t-shirts during the call that reveal the news.
Whatever the reason, long-distance shouldn't deter you from sharing the news with your family in a fun and memorable way.
What Week Do You Start To Show?
It's common to want to know when the baby bump starts to show, especially if you are not yet ready to announce the pregnancy.
Our bodies are different, and so will be the pregnancy.
In most cases, you will start noticing the baby bump during the second trimester between the 12th and 16th week.
Also, the number of pregnancies you have before can determine when you begin to show.
For example, your second pregnancy might start showing earlier compared to the first.
Your body build will also determine when the baby bump might be visible.
For instance, if you are slim, a baby bump will be noticeable compared to an average or heavily built person.
Related Post: Pregnancy Reveal To Husband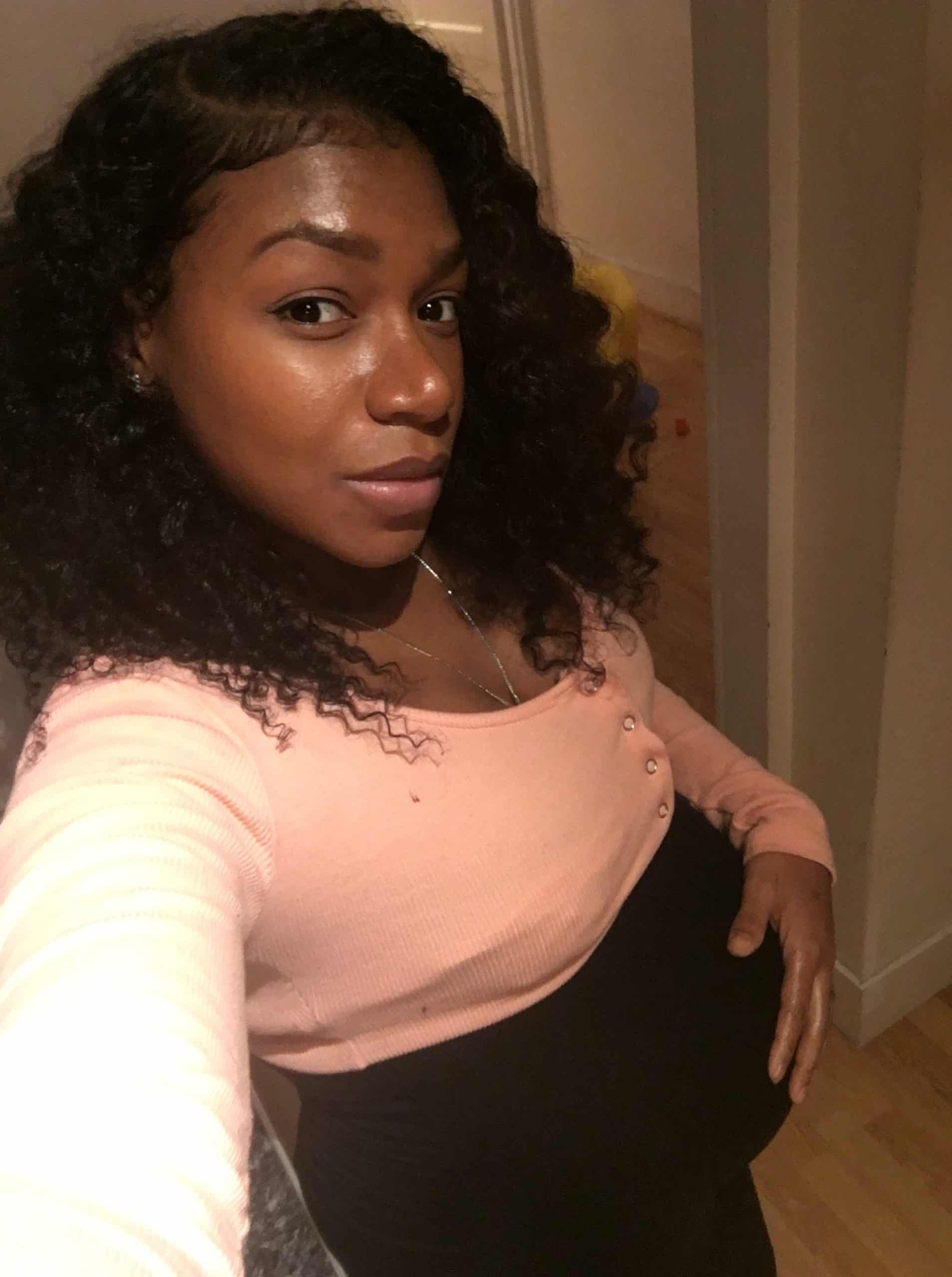 Iesha is a loving mother of 2 beautiful children. She's an active parent who enjoys indoor and outdoor adventures with her family. Her mission is to share practical and realistic parenting advice to help the parenting community becoming stronger.