Giving birth is the most magical and much-awaited moment in your life.
But, even though it's the most painful situation you will go through, you tend to forget all the pain and trauma after having your child in your arms.
There are various aspects of childbirth that you have to go through, starting from morning sickness, mood swings, abdominal pains, the actual birth process, postpartum trauma; apart from this, one aspect which does not get much importance is what to wear after giving birth.
Many of us are really confused about what to wear after giving birth, what quality of products will be good for both mother and baby, and will the hospital provide us clothes?
Let's answer them one by one.
What To Wear After Giving Birth?
After pregnancy, your body will change drastically, so you will have to wear dresses that are comfortable for you and helps you to breastfeed your child easily.
Some of the most comfortable clothes you can wear after giving birth are:
Robes:

Robes

are the first thing that might strike your mind; they are handy can be carried anywhere, and some of them are the best style accessory. The material is soft, warm, and breathable. These are the three things in which you definitely want to be after labor. And the style will help you to greet the visitors with a happy mind.

Cozy underwear:

Cozy underwears

are one of the essential undergarments that you need to consider after giving birth; no matter what type of delivery you have had, your comfort is the first priority. They are made of 95% cotton, which will always help absorb the sweat to feel dry and hygienic.

Nursing Bra: Yes,

nursing bras

are the most critical wear that you should carry to your hospital, making it easy for you to breastfeed your child. Avoiding tight bras with itchy cups and materials will be best for you and your baby. Nursing your baby will be so easy with these bras. There are various options among which you can choose.

Comfortable Pajamas: The heavenly pajamas or

pants

are soft, light-weighted, and easy to wear, which will help you to relax all day, not only during your hospital visit but at home as well. The warm and soft materials will definitely help you to relax throughout your day.
What To Wear In Hospital After Giving Birth?
When you have your hospital bag ready in advance, you will feel more prepared for whatever may occur during the last weeks of pregnancy.
You should pack your hospital bag if you are about 36 weeks pregnant, as labor can begin at any time during those weeks before your due date.
Keeping your "go bag" near your door – or in your car – is a good idea.
It's best to pack some essentials ahead of time, especially the toothbrush, phone, and insurance card.
Other items must be packed last minute (such as the phone and insurance card).
You should carry the following items with you while wearing the dress:
Bring your picture identification (driver's license or other identification), your insurance card, and your baby's doctor's name and contact information. If your medical records are helpful, please bring them with you. Any papers you should bring to the hospital or birth center should be discussed in advance with the hospital or birth center.

Please tell your doctors about your birth plan if you have one. Also, make sure you pack extra copies of your hospital records in your hospital bag so your medical team can access them.

Mobile phone and charger. Bringing a

multi-plug outlet

will allow you to charge several electronic devices at once. You may wish to bring a multi-plug outlet if you plan to charge several electronic devices at once.

You'll need a cord blood kit if you plan to bank or donate your baby's cord blood. Check the paperwork in advance.
Here is a complete checklist for exactly what to wear in hospital after you give birth
1. A Comfortable Underwear
Comfortable underwear will be your best friend when you've just given birth and want to keep it all in.
Your full underwear should be comfortable and secure, regardless of whether you gave birth vaginally or by C-section.
Underwear, thongs, cheekers, etc. that barely fit are inappropriate. Get the picture?
You will be provided with gowns and socks by hospitals and birth centers, but some women bring their own.
To check your blood pressure quickly, choose a gown that is loose, comfortable, and preferably sleeveless or with short, loose sleeves.
If you intend to walk the halls during labor or recovery, then backless slippers and a lightweight robe will be helpful.
Don't forget that blood and other bodily fluids can stain whatever you wear.
Nightgowns that open at the front will allow you to get skin-to-skin with your newborn and help with breastfeeding.
2. Nursing Bra Or Maternity Bra
If your baby needs to reach your breast quickly while you're nursing or visitors are dropping by, and you don't wish to expose your breasts, your breasts might need to be covered.
Unfortunately, wire-lace bras with rigid cups and itch-causing material are unsuitable in both situations.
One of the best things about breastfeeding bras is that the straps can be quickly dropped with one hand, allowing easy access to the breast.
Underwires are not present, and the fabric is stretchy enough to fit changing breast sizes.
Breastfeeding bras can even be worn without nursing.
If you plan on breastfeeding, you'll want a bra that your baby can easily access.
Many nursing bras' soft materials and wire-free designs make them comfortable enough to wear at night.
As you will be wearing your nursing bras for two years if you plan on breastfeeding, nursing bras are an excellent investment.
3. Pads For Nursing
You will still release milk from your breasts in the first few days after giving birth, even if you don't intend to breastfeed.
The feeling of waking up with a wet tank top or bra is exceptionally unpleasant – it can also stain lighter-colored tops.
Choose nursing pads that can be reused or disposable ones that can be used for multiple purposes.
When wearing a nursing bra (since it has a snug fit), use organic cotton nursing pads, and when wearing a tank top, use stick-on disposable nursing pads.
Stickiness prevents them from shifting when you wear looser, less-form-fitting tops.
Most moms prefer changing out of their nightgowns during their hospital stay, especially if visitors are expected.
You can still look pregnant in yoga pants and tops for pregnancy since your belly will still be visible.
An article of loose, comfortable clothing over the incision is best if you've had a c-section.
If you plan to go home, wear roomy clothes and easy to get into and flat and comfortable shoes.
5. What Quality Of Products Should You Choose?
The second question after what to wear after giving birth would be what material you should prefer.
Throughout your nine months of pregnancy, you will feel like going through nine different seasons.
For example, you might feel too hot during summers and too cold during winters.
Some of the hormonal changes might remain the same after your delivery. Therefore, the type and quality of clothing will be the priority.
To be very clear, you should always prefer clothes made of cotton and other soft materials during summers.
Since cotton absorbs sweat, it will keep you cool throughout your hospital visit, and woolen clothes during winters will keep you warm cozy.
In addition, these clothes will be the best choice for you and your body to deal with your postpartum hormonal and body changes.
6. Will The Hospital Provide You Clothes?
Yes, the hospital will provide you the hospital robes or Jonny gowns for your delivery.
Still, after that wearing, those are not comfortable at all; the 24/7 cold temperature at the hospital will surely make you uncomfortable.
Therefore, wearing a hospital gown is not such a good idea.
What To Wear After Delivery?
You will want to be comfortable once your baby is born, no matter whether you give birth vaginally or via C-section.
The following are ten things you'll want to wear after giving birth:
Underwear that is both comfortable and disposable

Pads that provide cooling

Breastfeeding

bra or loose tank top

Changing pads for nurses

Wear a headband or hair tie

The gown worn at delivery

Pajama pants for pregnant women or loose lounge pants

Put on a robe or zip up your cozy sweatshirt

Cozy socks

Shoes
You need some postpartum outfits for the hospital when packing your hospital bag.
You should choose hospital outfits that are comfy when you are in the postpartum period.
Keep in mind that postpartum is a particularly uncomfortable time (you just pushed a watermelon out! ), so comfort is vital.
For that impromptu photo op, you can pack a cute set of matching pajamas, but don't forget loose, comfortable clothes for the rest of your stay.
You will feel more prepared for anything that may occur during the last weeks of pregnancy if you have your hospital bag ready in advance.
If you are 36 weeks pregnant, you should pack your hospital bag, as labor can commence at any time during these weeks leading up to your due date.
Keeping your "go bag" near the door or in the car makes sense.
Prepare some essentials ahead of time, such as a toothbrush, a phone, and an insurance card.
Other items should be packed at the very last minute (such as the phone and the insurance card).
Also read: What To Wear When Giving Birth
1. Warm, Cozy, And Slippers
Make sure you have some warm and comfortable clothes with you if you get cold and do not forget your feet.
You may want to bring a thicker pair of socks and a pair of comfy slippers with you.
It's best to avoid anything with buckles or ties, as you'd want something easy to slip on and off.
This set is thick, comfortable, and warm (like Canadian winter warm).
The ankles are tight but not too close, so they're perfect for pregnant women with swollen feet.
They are slippers and cozy socks in one, and the bottoms have no-slip grips, which is ideal with the very slippery hospital floors.
Remember that they are a combination of socks and slippers, so they may look small at first but are easy to slip on.
Because they are designed to be worn like socks (but with better grip), they are the perfect choice if you don't want to constantly put your slippers on and off every time you get up.
2. The Postpartum Hospital Outfit: Gown And Robe
In a hospital, you'll have hospital staff checking on your lady parts constantly after giving birth, so it wouldn't make sense to wear pajamas or sweatpants right after giving birth.
Compared with a robe (preferably not your hospital gown), a gown is a much better option.
You'll get the robe but not the gown, so you might have to wear it for a few days.
Should you experience a leak, the delivery robe is one size and dark so that you won't see any stains.
There are also handy buttons on both sides of the bag to open for breastfeeding.
This gown was very popular postpartum since you will be able to check-in with hospital staff and go to the bathroom quickly.
3. Robes Or Zip-Up Robes
It's a good idea to pack a robe or zip-up fleece to keep warm while in a hospital.
Your partner may also feel comfortable in your robe if you run hot or have enough blankets to keep yourself warm.
Don't forget to pack two pairs of cozy socks – something that won't limit your movement around your ankles!
If your baby needs to get to the breast fast or visitors are coming, you might not want to expose your breasts.
If you wear sandals and go in and out of them, no-show socks are a great option.
You will likely make many trips to the bathroom, so pack some slip-on sandals to make your life easier.
Conclusion
Now that you know what to wear after giving birth and what materials are good for you during the hospital visits pack all the essential items in your hospital bag.
A bag full of comfortable wearables will definitely be an advantage for you.
Even though you can definitely choose to wear hospital robes if you want, your clothes will make you comfortable, relaxed and will undoubtedly save you from the cold hospital temperatures.
Frequently Asked Questions
What Do Babies Wear Right After Birth?
They just need to wear a onesie under their swaddling blanket; you can also choose between a normal onesie and the one with long sleeves that have attached mittens; this will stop your child from scratching themselves.
Apart from onesies, sleep sacks can also be used if your child doesn't like swaddling.
What To Wear Going Home From The Hospital?
After your child's birth, your bump will take quite a few weeks to go down, so you should definitely choose baggy clothes for your postpartum bump; you should wear comfortable materials and should always avoid wearing hard materials since they can rub against your stitches.
What To Wear On The Way To The Hospital After Labor?
Hospital gowns are primarily preferred in this situation as you are not concerned about ruining them.
Still, if you wish to wear home clothes, then you should wear some long loose tops since all the activity will be below your waist, so wearing pajamas or shorts are not necessary in this case.
Do you wear a bra when giving birth?
Simply ensure that your bras and apparel are metal-free.
A cesarean delivery could result in burns due to metal used in the electrocautery tool (used to cut and cauterize the tissue).
Why are you forced to give birth on your back in hospitals?
Movement is a natural technique for women to cope with the pain of labor.
Remaining upright also appears to help labor progress, and, with the help of gravity, the baby descends through the birth canal.
MRI studies reveal that lying on one's back can drastically shorten the baby's passage through the pelvis.
What can I do to keep from tearing during delivery?
Page suggests standing upright or lying in a side-lying position to reduce the extent of vaginal tears.
This offers less pressure on the perineum and vaginal floors. Hands-and-knees and other forward-leaning positions can also help to prevent perineal tears.
Wearing a mask during childbirth in a hospital is necessary?
Even though it is not ideal, it is imperative to wear a face mask during labor.
Both patients and visitors and health care professionals should wear masks to ensure their safety.
In a survey at The Mother Baby Center, one woman was asked how giving birth during COVID-19 made her feel.
How long does a woman stay in the hospital after giving birth?
A woman who gives birth by vaginal delivery can expect to be in the hospital for at least 24 hours, although most women stay for two days.
The length of your stay may increase if you are experiencing a medical complication.
For example, in most cases, your hospital stay will be three to four days if you've had a c-section.
If you were to give birth, would you shave?
It is usually a topic of discussion whether or not to shave the perineum during pregnancy.
Your doctor may shave you before delivery for hygiene reasons or reduce the risk of infection caused by surgical or C-section incisions.
Your doctor might recommend a perineal haircut if you have a perineal haircut before delivering.
How Should I Dress In The Hospital After Giving Birth?
The essential clothing is a bathrobe, nightgown or two, slippers, and socks.
You can use gowns and socks provided by hospitals and birth centers, but some women bring their own.
Your blood pressure can be checked easily by wearing a loose, comfortable gown with either no sleeves or short, loose sleeves.
Is It Okay To Shower After Giving Birth?
After giving birth to your baby, you may shower, bathe, and wash your hair at any time.
However, avoid strenuous activity for six weeks after giving birth.
Visits with family and friends may cause undue fatigue during the first two weeks and may also be harmful to your baby's health.
Drinking Hot Water After Delivery Is Necessary?
Dr. James Odofin, a senior Obstetrician and Gynecologist, cautioned women against drinking beer or hot water to lose belly fat after delivery, pointing out that it does not help mothers regain their pre-pregnancy abdomen size.
Related Post: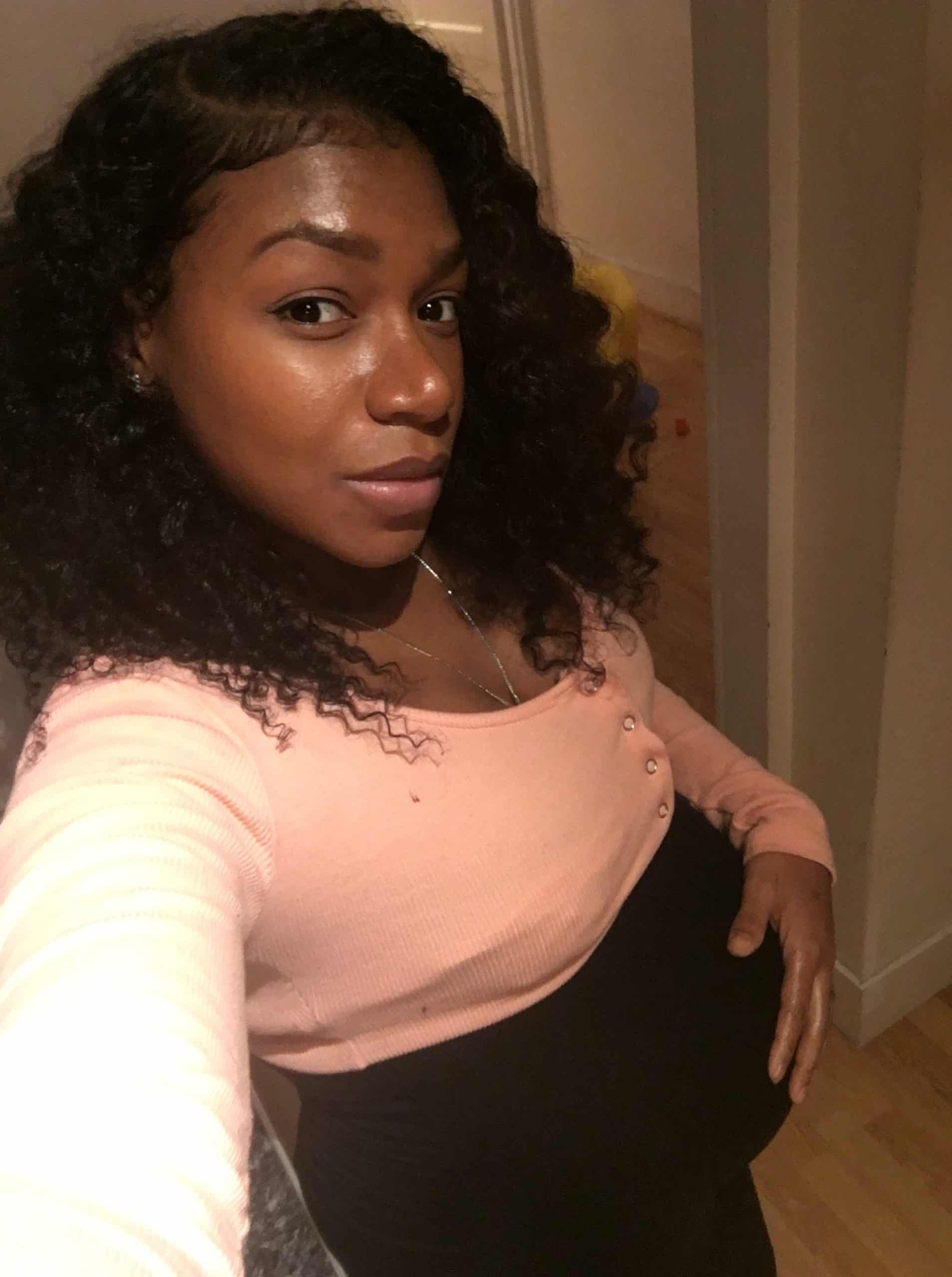 Iesha is a loving mother of 2 beautiful children. She's an active parent who enjoys indoor and outdoor adventures with her family. Her mission is to share practical and realistic parenting advice to help the parenting community becoming stronger.