-- Discover a safe space for women to meet, listen and share valuable advice!
The Mothers Community is a safe online community sharing advice on fertility, pregnancy and motherhood through to menopause. Join Community Here --
Looking for the Best Toys for Crawlers?
In A Rush? Check Out The Number 1 Pick Here:
Melissa & Doug Happy Giddy Tunnel
Crawl or wiggle through a brightly striped bug-themed tunnel.
Perfect indoors or out
Durable, wipe-clean materials
English (Publication Language)
Crawling is the first leap forward for your sleepyhead to explore the world around them.
Your baby will reach a significant developmental milestone when they can crawl.
It enables children to go on independent exploration, which for them opens up a completely new universe.
The best time to utilize your kid's super energetic eagerness is their playtime.
Introducing your kid to new toys that encourage crawling can be a great idea to start with.
Such toys can often nurture other milestones, too, like emotional, social, cognitive, physical development, or movement.
But, you have to be attentive about the material used and preferred age.
Covering much of the leg work, we have looked over thousands of toys and listed a few of the best toys for crawlers in this post.
Give it a quick read to find the best-suited one for your toddler.
Model & Make
Best Seller
Melissa & Doug Happy Giddy Tunnel
Editor Choice
VTech Wiggle and Crawl Ball,Multicolor
Best Budget
LeapFrog Count and Crawl Number Kitty
Preview
Best Seller
Model & Make
Melissa & Doug Happy Giddy Tunnel
Preview
Editor Choice
Model & Make
VTech Wiggle and Crawl Ball,Multicolor
Preview
Best Budget
Model & Make
LeapFrog Count and Crawl Number Kitty
Preview
What to Look for in the Best Toy for Crawlers?
Material
Kids have delicate skin. So, you need to pay extra attention to the material of the toy.
Hard toys can unintentionally hurt your little one, so it's best to go for softer toys that are BPA and phthalates free.
Age-Appropriateness
There are toys for all ages. But, all of them may not be appropriate for all ages.
You surely don't want to buy your crawler a toy that is meant for 7-8-year-old kids.
Value Addition
Always go for toys that help kids to learn new things.
Whether educative or all-round development, toys take up a significant part of the day for toddlers and crawlers.
So, always prefer to teach even in the fun playtimes.
Best Toys for Crawlers: Our Top Picks
Melissa & Doug Happy Giddy Tunnel
Crawl or wiggle through a brightly striped bug-themed tunnel.
Perfect indoors or out
Durable, wipe-clean materials
English (Publication Language)
Melissa & Doug are known for manufacturing the best quality toys for kids, and Happy Giddy Crawl Tunnel is one of them.
The Happy Giddy Tunnel encourages kids to crawl, roll, and slide and, thus, is one of the best toys to promote crawling.
It is a foldable and durable tunnel that comes in the shade of rainbow colors.
These often become instant favorites for little ones.You can clean this tunnel with wipe-clean cloth easily.
Kids can even creep, crawl, sleep in this mysterious tunnel. It has an inbuilt door at both ends of this tunnel.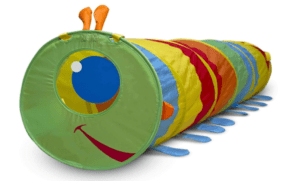 VTech Wiggle and Crawl Ball,Multicolor
Move and crawl with the animal friends on the Wiggle and Crawl Ball by VTech
Interactive ball wiggles and wobbles on its own encouraging your little one to chase after it; features 45+ playful songs, melodies, sounds and cheerful phrases
Press the dog, cat and bear buttons to hone fine motor skills and learn about animals, colors and numbers; 6 interactive animals encourage play
Five flashing lights attract your baby's attention while spinning and twisting animals encourage interaction; play and crawl with the moving ball
Requires 3 AA batteries (batteries included for demo purposes only; new batteries recommended for regular use); intended for ages 6 months to 3 years
VTech, as the name suggests, is a ball that helps your kid crawl, develop overall motor skills and senses.
It contains animal-shaped press buttons that store more than 45 songs, phrases, and melodies.
It has five different colored LED lights as well, which makes this ball more attractive for kids.
It supports language development among kids and is undoubtedly one of the best toys for crawlers.
It teaches kids to crawl, slide, spin, and roll as well.
This crawl ball helps kids to develop hand-eye coordination in the young ones.
Sale
LeapFrog Count and Crawl Number Kitty
From sitting and batting to scooting and crawling, get a move on number skills with count & crawl Kitty! 3 AAA batteries required (included for product demonstration only; replace for home use).
This kitty is designed for perfect push-and-play counting fun! Press the keys in number mode to hear number names 1 to 20 and cat-tastic counting rhymes.
Explore the keys in music mode to play meows high and low, hear silly sounds or make original melodies. Push Kitty along to hear a fun counting song, plus the original ditty, 'tummy, Whiskers, Tongue and paws'.
Kitty sits up so babies can bat a ball of yarn, nurturing motor development and balance. A purr-fect way to explore numbers 1-20!
Learned skills include gross motor skills, music & rhythm, and numbers.
LeapFrog presents LeapFrog that can become your kid's best friend.
It is a cute cat that teaches your kid, counting from 1 to 20.
The crawl number kitty lets your kids reiterate mew sound again and again in a low or high pitch as it moves.
It is almost like a real kitty that has a tummy, whiskers, tongue, and paws.
The 20 number keys move as the kitty moves forward or backward.
It is one of the best toys for sitting babies as it keeps them engaged for a more extended period.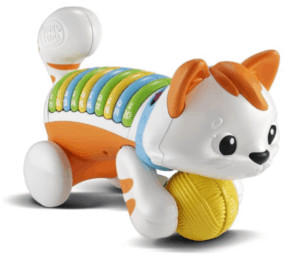 Edushape Sensory Balls for Baby - 4" Solid Color Baby Balls That Help Enhance Gross Motor Skills for Kids Aged 6 Months and Up - Pack of 4 Vibrant Colorful and Unique Textured Balls for Baby
IMPROVE MOTOR SKILLS: Playing Edushape's sensory ball enhances children's gross motor skills. These balls for babies encourage crawling & grasping while improving children's balance and coordination.
DEVELOP SENSES: Let your child explore their senses with the help of our baby sensory balls. This baby ball promotes a natural desire to reach out, touch, experience different textures, shapes, and bright colors.
TOP QUALITY & EASY GRIP: Edushape's infant sensory balls for toddlers are BPA and Phthalate free, feel soft on baby's skin & are just the right size for their little hands to grip!
PERFECT GIFT: This set of baby ball toys is in easy-to-wrap packaging and is a suitable gift for any occasion! Our collection of toddler balls includes various shapes and sizes for a set that grows and develops with the child.
WHAT'S INSIDE: A set includes four 4" sensory balls for toddlers 1-3. Colors may vary. Supplied fully inflated but can be re-inflated via a built-in valve. Recommended for kids aged 6 months and up!
Edushape is a textured ball made up of BPA-free PVC material. It is a squeezable ball.
It interests the kids while developing motor skills and teaches hand-eye coordination to toddlers.
This ball has a nubby texture, which encourages all-round development among kids while playing.
It is one toy that encourages crawling or standing.
Sale
Sassy comes in a bright color shade that interests kids pretty much.
The gentle rattle sound of this ball creates neural connections in babies' brains from birth through 3 years of age.
The premium materials of this ball promote tactical senses among kids as well.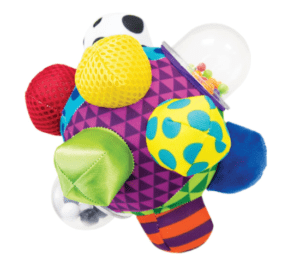 Skip Hop Baby Rattle Toy, Explore and More Roll Around Rattle, Hedgehog
This familiar face engages baby in developmental play. The flexible body has easy-to-grasp openings that help little hands build dexterity
The rattle encourages rolling, shaking and tossing, while teethable surfaces and colorful beads offer more to touch and explore
Rubberized details for teething
Easy to grab
Ages 3m+; BPA-Free, PVC-Free, Phthalate-Free; Size (inches): 6.5l x 3.5w x 4.75h
Hedgehog is a colorful and attractive toy for kids.
It has rubberized details for teething on the outer surface.
This toy engages your baby in development play and also helps in the teeth growth of the baby.
It can be easily considered as one of the best toys for crawlers.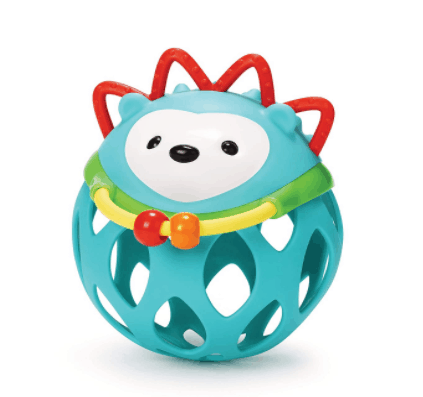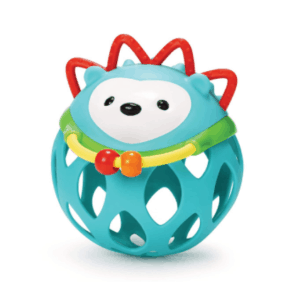 Sale
Melissa & Doug K's Kids Pull-Back Vehicle Set - Soft Baby Toy Set With 4 Cars and Trucks and Carrying Case - Pull Back Cars, Soft Vehicles Toys For Babies And Toddlers
INCLUDES 4 SOFT VEHICLES: The Melissa & Doug Pull-Back Vehicles set for babies and toddlers includes 4 safe, soft vehicles including a school bus, family car, fire truck, and police car.
EASY TO USE: The rev-up mechanism inside each vehicle makes it easy for babies and toddlers to get big acceleration with little input; they just pull them back and release to see them zoom off across the floor.
PROMOTES MULTIPLE SKILL DEVELOPMENT: Our car toys for babies and toddlers help to develop multiple skills, including sensory, fine motor, gross motor, and, communication.
GIFT FOR 9 MONTHS AND UP: Our Pull-Back Vehicles Baby and Toddler Toys makes an ideal gift for kids ages 9 months and up. Add the Melissa & Doug Hungry Pelican Learning Toy for even more hands-on learning fun.
"THE GOLD STANDARD IN CHILDHOOD PLAY": For more than 30 years, Melissa & Doug has created beautifully designed imagination- and creativity-sparking products that NBC News calls "the gold standard in early childhood play."
Melissa & Doug provides a set of four stuffed vehicles.
Melissa & Doug includes a fire truck, a school bus, a family car, and a police car.
With a rev-up mechanism, the wheels provide great speed to the vehicles.
These vehicles are very soft and enhance the motor and sensory skills among kids.
Research shows that these soft vehicles enhance self-confidence, social skills, and resilience among kids.
Sale
Fisher-Price Zoom 'n Crawl Monster
2 ways to play as baby grows: Sit & Play: Fill the monster's mouth & see the balls spin! Crawl & Chase: Balls spill out as the monster zooms around—encouraging baby to crawl
Spin roller or insert balls to activate spinning & sounds
5 colorful balls to fill (& spill!)
15+ silly songs, sounds & phrases
Spin the roller for more hands-on fun!
Fisher-Price presents Fisher-Price that is painted in bright colors to intrigue kids.
It is one of the toys that encourage crawling or standing.
This toy has 15 pre-fed songs and phrases to teach kids basic manners.
It develops motor, thinking, auditory, visual and tactile skills.
Toddlers can either watch the balls rolling into the mouth of a monster or crawl and chase them.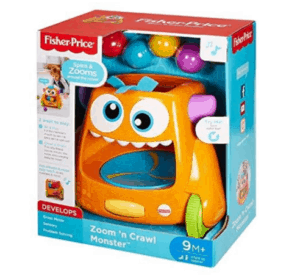 Baby Einstein is a ball toy that encourages kids to explore.
Its packaging includes five multi-sensory balls, with different designs printed on each one of them.
Not only does it boost hand-eye coordination, but it also encourages babies to crawl.

VTech Baby Lil' Critters Roll and Discover Ball (Frustration Free Packaging)
Plush baby ball toy features entertaining characters and bright bold colors; crawl ball is great for exploring infants
Infant learning toy has a motion sensor that triggers sounds and phrases; learning to crawl toy makes noise as it is tossed and rolled around
Infant ball toy has a big Star shaped button that introduces numbers and animals; early educational toy develops motor skills
Stuffed toy ball has soft textures and tags that are interesting for baby and help with tactile development
The baby toy is intended for children 6 months 2 years old; 2 AAA batteries included for demo, use new batteries for regular use
Vtech Lil' Critters is a ball that has motion sensors.
This toy has a big star-shaped button that introduces animals and numbers to your kid.
This stuffed toy ball has a soft texture and supports tactical development among kids.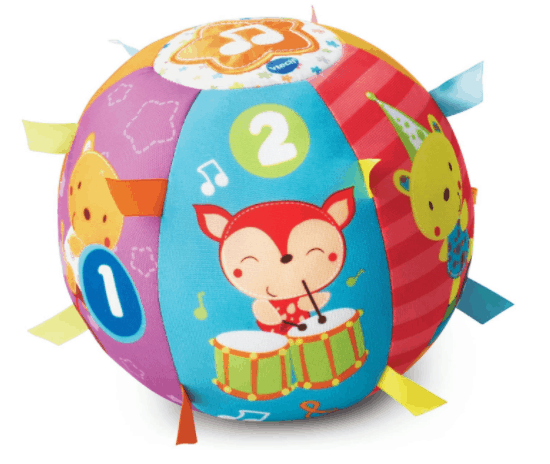 Verdict
Crawling is what develops the vestibular and sensory system in kids. It is the first form of independent movement.
If you're still unsure, we recommend the Melissa & Doug Sunny Patch Happy Giddy Crawl – Through Tunnel as it's the perfect combination of fun and discovery.
Apart from encouraging your kid's skills, it is also well made and will hold up for years.
Bestseller No. 1
Liberty Imports 72 Pack Sticky Stretchy Wall Climbers Window Crawlers - Party Favor Tricky Novelty Toys Climbing Rolling Men for Kids
✅ VALUE BUNDLE - Set of 72 sticking, rolling, wall climbing men. Suitable for themed parties, celebrations, party favors, party bag stuffers and gift ideas for kids. A good chance to practice your handwork ability. Kids can play it for fun, turn over on walls, windows or tables.
✅ DIMENSIONS - Each wall climber measures 3.5 x 1 inch. Super light, easy to throw / toss, and comes in assorted fun colors. Hands and feet have small glue balls. Glue balls have good resilience and can extended flexible.
✅ EASY TO PLAY - Kids will love tossing and flinging them so that they stick to ceiling, walls, windows, tables, and virtually any surface. Simply throw them on the wall and they will flip over and over, making their way down the wall! Climbs down walls, sliding glass doors, windows, and mirrors. If the sticky pieces lose their stickiness, simply rinse with water and pat dry with a paper towel.
✅ SAFE & FUN - Made of non-toxic and durable safe materials. Amazing novelty gag toys that require no battery, and keep kids and adults entertained during any occasion. Ages 5 and up.
✅ PARTY FAVOR - Each piece comes wrapped separately and packed in an awesome display box. Perfect as birthday gift, party giveaways, decorations, or stocking stuffers. It will add a fantastic touch to your gathering events.
Sale
Bestseller No. 2
Sale
Bestseller No. 3
Bestseller No. 4
gemini&genius Construction Vehicle Toys Crawler Crane Dragline Excavator Heavy Duty 1/50 Scale DieCast Truck Engineering Car Site Sandbox Car Toys Collectible for Kids and Decoration for House
【Lifelike Detail】High Quality & Great Details, According to the prototype design of the Construction machinery so that you will be able to experience the reality of the Engineering Machine at home
【Functions】 The working part of the construction vehicle can be moved and load small things to Walk, Forward and Back, Turn Left And Turn Right, Arm Can Rise Up And Fall Down Freely
【Provide Imagination】Realistic mini construction vehicles are suitable for the development of kid's imagination and hand coordination.
【Material】 Made of highest quality 95% Zinc alloy (except for rubber tires), Able to withstand violent beatings from children.
【Size】 Approx 4.7"(L) * 2.55"(W) * 10.23"(H) With Colorful Window Box, Can be the Gift. The Same can be Used as Home Decoration and Construction vehicle theme party decoration
Sale
Bestseller No. 5
Rc Car, NQD Remote Control Monster Truck, 2.4Ghz 4wd Off Road Rock Crawler Vehicle, 1:16 All Terrain Rechargeable Electric Toy for Boys & Girls
【Excellent Driving Experience】 Equipped with a 2.4Ghz radio controller, you can easily control it. Its four-wheel drive and front and rear dual motors, give this speed car a strong power. It is ready to run, you can move easily and steadily on any terrain.
【Extened Entertainment Time】 To make you enjoy completely, it is equipped with 2 rechargeable batteries. Each 3.7V 1200 mAh battery can be used about 45 mins when fully charged. The 2 batteries are used alternately, giving you extra long entertainment time.
【Longer Service Life】 Our RC car is equipped with four non-slip tires and each wheel is equipped with a suspension shock absorber. So you can definitely imagine that it can support accidentally dropped and unstable ground, which protect the car from damage.
【Superior Adaptability】 You can easily control it on a variety of terrains, such as flat grassland, muddy roads, loose sandland,etc.Also, two or more RC vehicle can be racing together without remote confusion.You will experience the extreme power and speed.
【High-quality After-sales Service】Please scroll down to "product guides and documents" in the "Product details" section to download the "User Manual (PDF)". The NQD team promises that product quality comes first, If you have any questions about the product, please contact our after-sales mailbox, we will reply in time and provide you with a satisfactory solution.
Related Post: Best Toy Workbench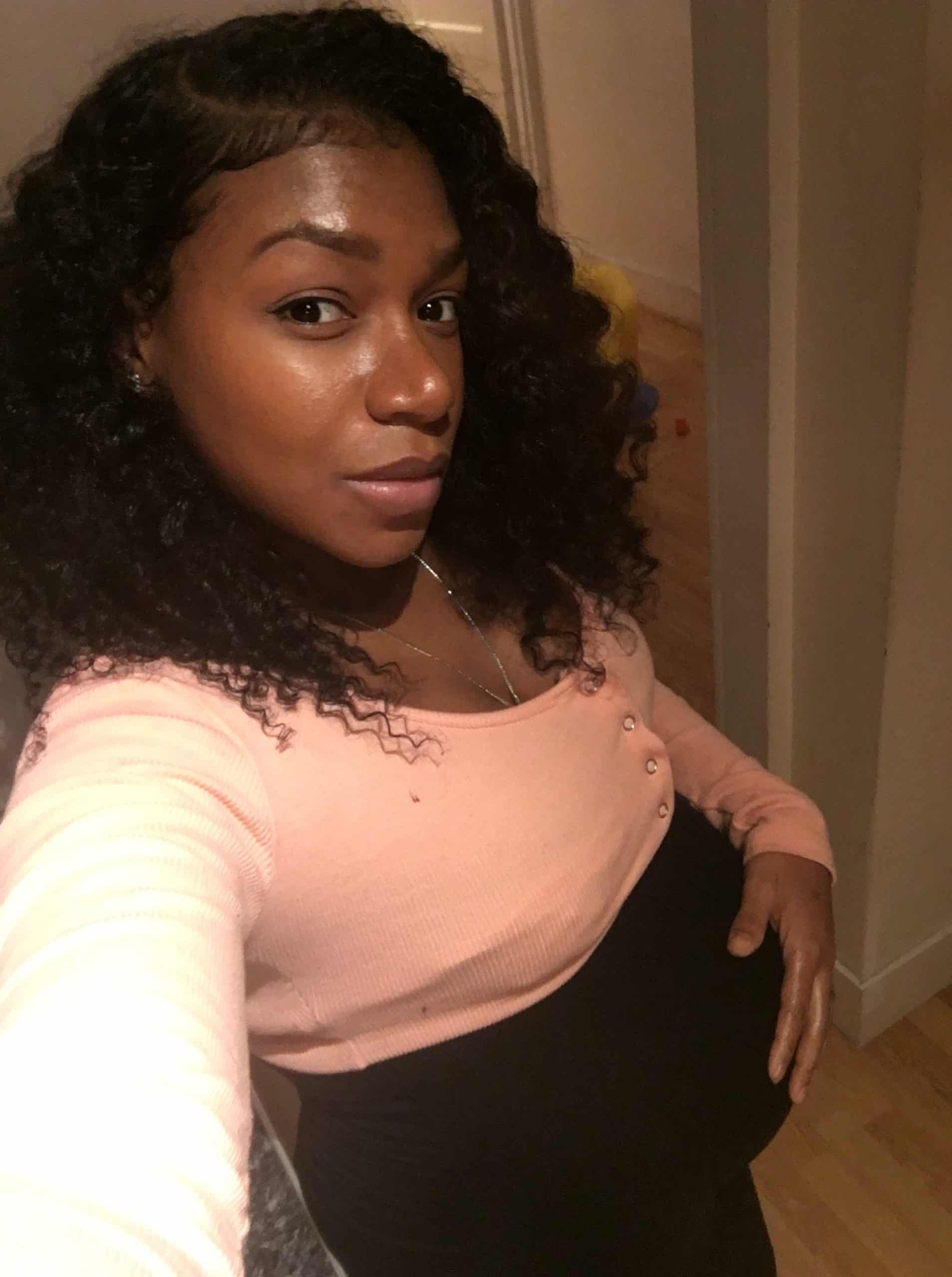 Iesha is a loving mother of 2 beautiful children. She's an active parent who enjoys indoor and outdoor adventures with her family. Her mission is to share practical and realistic parenting advice to help the parenting community becoming stronger.
A safe space for women to meet and find support!
The Mothers Community is a place to connect with women who are at a similar stages in life–from fertility, pregnancy and motherhood through to menopause.
Join a community who are there to listen, share information and offer valuable advice. Join Community
Take matters into your own hands! Expert advice for Fertility, Pregnancy and Motherhood! Discover More Here