Fall is a wonderful time of the year to celebrate the upcoming arrival of a new family member, and what better way to do that than by hosting a fall-themed gender reveal party?
As the leaves change color and the air becomes crisp, there are countless creative and exciting ideas to help expectant parents reveal the gender of their little one in a memorable way. With the right planning and inspirations, a fall gender reveal party will be an unforgettable experience for everyone involved.
The concept of gender reveal parties has grown in popularity over the years, providing a unique and fun opportunity for friends and family to gather and share the excitement of learning the baby's gender.
Incorporating the beauty and warmth of fall into these celebrations can make the occasion even more special. By considering factors such as reveal techniques, venue decorations, and delectable fall-inspired menu items, hosting an unforgettable fall gender reveal becomes a delightful reality.
Key Takeaways
Fall inspires unique and creative gender reveal ideas.
Planning involves considering reveal techniques and decorations.
Fall-themed food options enhance the overall party experience.
The Concept of Gender Reveal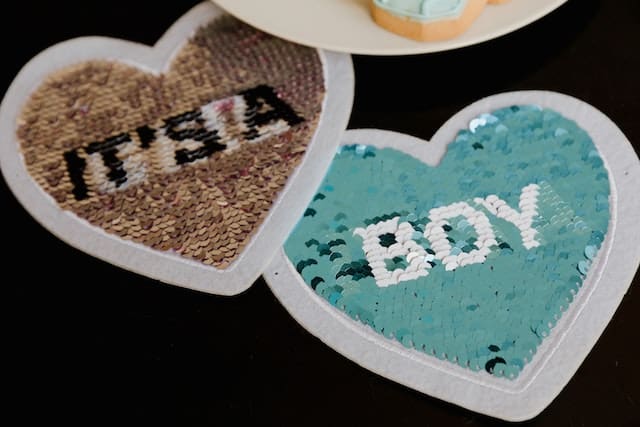 Gender reveal events are a popular way for expecting parents to announce their baby's gender to their loved ones. These gatherings are typically held during the second trimester of pregnancy, when the baby's sex can be determined through an ultrasound or blood test.
Gender reveal ideas can range from simple and intimate to elaborate and exciting.
A variety of creative ideas can be used to disclose the baby's gender at these events. Some parents choose to release balloons or confetti in either pink or blue, symbolizing the traditional colors associated with baby girls and boys, respectively.
Others may prefer to use a cake filled with color-coordinated frosting or candies, which is revealed when the cake is cut.
In recent years, new and inventive gender reveal ideas have emerged, including gender-reveal smoke bombs, personalized scratch-off cards, and even pinatas filled with colored treats.
Parents often try to incorporate their hobbies and interests to create a unique and memorable experience for their guests. These ideas not only generate excitement among attendees but also allow parents to share their joy with those closest to them.
While most gender reveal ideas focus on the element of surprise, some parents may opt for a more neutral approach. In these instances, the parents can prioritize celebrating the impending arrival of their new baby, rather than placing a specific emphasis on the gender.
This can be done through the use of inclusive colors, such as yellow or green, or by incorporating gender-neutral themes into the event.
Ultimately, the choice of gender reveal idea comes down to the preferences and values of the parents-to-be. Whatever method is chosen, a gender reveal event provides an opportunity for friends and family to come together in anticipation of the newest addition to the family, fostering a sense of connection and shared joy.
Planning the Fall Gender Reveal Party
Choosing a Theme
When planning a fall gender reveal party, start by selecting a theme that complements the autumn season. Some popular themes include pumpkins, fall leaves, and other seasonal elements.
Keep in mind the expectant parents' interests and taste when deciding on a theme, ensuring that the event reflects their personality and preferences.
Using Fall Colors
Incorporate the rich and vibrant fall colors into your party decorations and details. Focus on hues such as deep reds, oranges, and yellows to represent fallen leaves or greens and browns for an earthy touch.
For instance, use pumpkin-themed table settings and centerpieces to embrace the season's atmosphere. By utilizing fall colors, you will create a warm and inviting atmosphere for your gender reveal celebration.
Organizing the Venue
Choose a suitable venue that accommodates your party size and reflects the desired autumn ambiance. Consider an outdoor location such as a park or backyard, where guests can enjoy crisp autumn air and live amidst the fall foliage.
Alternatively, select an indoor space that can be decorated with fallen leaves, pumpkins, and other autumn elements, creating a beautiful seasonal backdrop for the special event.
Creating Invitations
Design invitations that incorporate the gender reveal party's theme and fall colors. For example, include illustrations of pumpkins, leaves, and other seasonal motifs.
Ensure that the invitations provide all necessary information, such as the date, time, and venue, and include any special requests or instructions for your guests. Send the invitations with ample time for your guests to make arrangements to attend the event.
Selecting a Date
When choosing a date for the fall gender reveal party, consider factors such as the expectant parents' availability and the weather forecast. Schedule the event within the autumn season to maximize the natural beauty of the surroundings.
Additionally, provide enough notice for your guests to attend, preferably at least four weeks in advance, to accommodate their schedules and allow sufficient planning time.
Creative Ideas for Fall Gender Reveal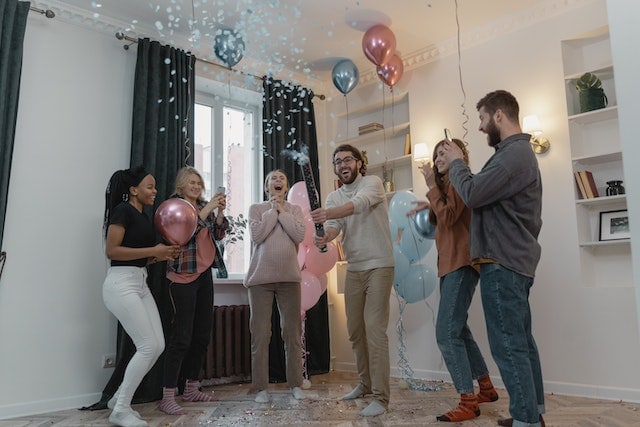 Pumpkin Themed Gender Reveal
One popular fall gender reveal idea is a pumpkin themed gender reveal. You can set up a beautiful autumnal display with pumpkins, leaves, and fall décor. Instead of carving jack-o'-lanterns, consider hollowing out a large pumpkin and filling it with either pink or blue confetti.
When it's time for the big reveal, the parents-to-be can lift the pumpkin lid to release the confetti, thus revealing the baby's gender.
Another twist on the pumpkin theme is to use a pumpkin painting activity. Guests can be divided into two teams and each team can paint a pumpkin in either pink or blue, based on their gender prediction.
Once the pumpkins are painted, the parents can tally up the votes and announce the gender.
Halloween Inspired Gender Reveal
For those who love Halloween, a Halloween inspired gender reveal is an exciting way to incorporate the spookiest time of the year into your special announcement. Consider hosting a costume party where guests must dress up as either a traditional male or female character, based on their guess of the baby's gender.
A fun activity for this theme is a "trick or treat" style game, where guests must choose between two identical containers – one with pink candy and one with blue candy. The container holding the candies representing the baby's gender can then be revealed.
Sports-Inspired Gender Reveal
For sports enthusiasts, a sports-inspired gender reveal can be an excellent way to merge your love of the game with your upcoming arrival. One common idea is to host a football-themed event, with guests wearing their favorite team's jersey or colors, divided by the gender they predict for the baby.
Incorporating a friendly sports competition can also add excitement to the event and build anticipation. Parents can select a specific game or activity, such as kicking a soccer ball or throwing a baseball, to reveal pink or blue powder, indicating the baby's gender.
This sporty and engaging reveal keeps everyone actively involved, and creates a memorable moment for all involved.
Reveal Techniques
Pumpkin Carving Reveal
One of the most popular techniques for fall gender reveal parties is the Pumpkin Carving Reveal. This method incorporates the festive spirit of autumn by having the parents-to-be carve a design into a pumpkin to reveal the baby's gender.
This can be done by placing a small light or a colored object inside the pumpkin that represents the expected gender. For example, pink for a girl and blue for a boy.
Balloon Pop Reveal
The Balloon Pop Reveal is another exciting technique for disclosing the baby's gender. In this method, parents-to-be fill a large balloon with colored confetti or powder and then pop it to reveal the gender.
The color of the confetti or powder will indicate the baby's gender: pink for a girl and blue for a boy.
Confetti: Parents can purchase confetti in the desired color, or make it themselves at home using colored paper or tissue paper.
Balloons: Choose a durable and large balloon to hold the confetti or powder securely until the moment of the big reveal.
Confetti Release
The Confetti Release is a fun and easy way to announce the baby's gender. In this technique, parents-to-be use confetti poppers or confetti cannons to launch the gender-specific colored confetti into the air.
The participants gather around, and on the count of three, everyone releases the confetti, creating a spectacular moment as the baby's gender is revealed.
Tip: Make sure to use biodegradable confetti to minimize the environmental impact.
Pinata Break Reveal
The Pinata Break Reveal adds an engaging and interactive element to the gender reveal party. In this method, parents-to-be fill a pinata with gender-specific colored confetti, small toys, or candy.
The expecting parents or their friends and family take turns hitting the pinata with a stick or bat until it breaks, revealing the baby's gender through the shower of colored items.
Pinata Ideas:
Fall-themed pinatas, such as pumpkins or autumn leaves
Traditional baby-related shapes, like a baby carriage or a baby bottle
Decorating the Venue
Using Fall Autumn Elements
To create a cozy and welcoming atmosphere for your fall gender reveal party, incorporate natural elements of the season. Start by setting up a pumpkin patch at the venue. Arrange pumpkins of various sizes, colors, and shapes to form a visually appealing display.
Add hay bales and a scarecrow family to complete the pumpkin patch theme. This setup will not only serve as a beautiful backdrop for photographs but also an entertaining spot for guests.
Fall is marked by vibrant leaves, making them the perfect décor to complement your gender reveal party. Scatter colorful leaves on tables, use them to create garlands, or hang them from the ceiling for a festive touch.
A cornucopia can be a beautiful centerpiece, filled with seasonal fruits, vegetables, and flowers. Be sure to choose hues that reflect the autumn months, such as burnt orange, gold, and deep red.
Special Touches for the Themed Party
To make your fall gender reveal party unforgettable and unique, incorporate special touches that emphasize the theme. Create custom invitations using autumn-inspired designs, like cute scarecrows, leaves, or pumpkins.
If you know the baby's nursery theme, include a nod to the design in your party decorations. For example, if the nursery has a woodland theme, add elements like pinecones, acorns, and faux animal figures throughout the venue.
Here's a list of ideas to enhance your fall-themed gender reveal party décor:
Personalized banners with fall foliage prints
Customized balloons in autumn colors
Seasonal desserts such as pumpkin pie or apple cider donuts
Rustic table settings with burlap and wood accents
Fall-scented candles or essential oil diffusers
By incorporating these creative and thoughtful touches, you can ensure that your fall gender reveal party is a memorable and lovely celebration for all attendees.
Commemorating the Event
Capture the Moment
A beautiful and unforgettable way to commemorate your gender reveal is by organizing a fall-themed photoshoot. This season provides eye-catching natural backdrops with warm colors, making your photos even more stunning.
Experiment with photography styles and props like fallen leaves or a pink bow to enhance the ambiance. You could even incorporate a captivating Harry Potter gender reveal by incorporating elements from the magical universe.
Party Souvenirs
Ensure that guests walk away with lasting memories by customizing party favors suited for the fall season. Several options include:
Witch hat cookies: Create delicious and thematic treats by baking cookies shaped like witch hats, symbolizing the mystery and magic of the gender reveal.
Mini pumpkin candles: A quintessential symbol of fall, mini pumpkin candles elevate the spirit of the season. These can be personalized with ribbons or tags denoting the event.
By thoughtfully capturing the event through a fall-inspired photoshoot and preparing memorable party souvenirs, your gender reveal will be an event that both you and your guests will cherish forever.
Fall Gender Reveal Food Ideas
Pumpkin Spice Cupcakes
Incorporate the flavors of the season into your gender reveal party with pumpkin spice cupcakes. These delightful treats can be filled with either pink or blue frosting, which will be revealed when guests bite into them.
To further enhance the fall experience, try incorporating other autumnal ingredients, such as:
Cinnamon
Nutmeg
Allspice
Cloves
To make the gender reveal even more exciting, you can create a ballot box for guests to guess the baby's gender before the big reveal. They can cast their vote and eagerly await the results as they indulge in the delicious pumpkin spice cupcakes.
Seasonal Delicacies
Fall is a time for cozy flavors that warm your heart. Why not use this opportunity to serve seasonal delicacies that reflect the essence of autumn? Some appetizing ideas to consider include:
Apple cider donuts
Butternut squash soup shooters
Maple bacon popcorn
Baked Brie with cranberries and pecans
These flavorful options are not only delicious, but they also provide a comforting autumn atmosphere to your gender reveal party.
Remember to keep the food choices considerate of any guests who may have dietary restrictions. With a diverse offering of fall themed foods, your gender reveal party is sure to be a memorable experience for everyone involved.
Online Resources for Fall Gender Reveal Ideas
Confident, knowledgeable, neutral, and clear, the internet offers a wealth of resources to help expecting parents plan an unforgettable fall gender reveal party. Perhaps the most popular online platform for finding unique and creative gender reveal ideas is Etsy.
Known for its vast array of handcrafted and personalized items, Etsy is an ideal starting point for discovering and purchasing all the essentials for a fall-themed gender reveal celebration.
Begin by browsing the numerous Etsy shops that specialize in gender reveal party supplies. One can find everything from autumn-inspired invitations to adorable cake toppers and custom banners, all designed to set the mood for the big reveal.
Furthermore, many Etsy sellers offer convenient digital downloads, allowing for instant access and printing. This certainly removes the hassle of waiting for physical items to arrive and allows for last-minute adjustments.
For those seeking cute gender reveal ideas, Pinterest is another excellent online resource. With thousands of gender reveal pins available, expectant parents can find everything from DIY projects to professionally designed party specifics.
Begin by searching for fall gender reveal ideas and be prepared to discover a range of clever concepts. From pumpkin-themed gender reveal parties to cozy outdoor gatherings, the possibilities on Pinterest are truly limitless.
Finally, don't overlook the advice and expertise offered by parenting and lifestyle blogs. Such platforms can provide valuable insights into successful gender reveal parties, often incorporating step-by-step guides and first-hand accounts of their experiences.
Utilize these blogs along with the resources mentioned above to create a memorable and enchanting fall gender reveal event.
Frequently Asked Questions
What are some creative pumpkin-themed gender reveal ideas?
Carving a pumpkin with the reveal phrase or symbol and lighting it in the evening is a classic approach. Alternatively, fill small pumpkins with colored powder or confetti to represent the baby's gender and have guests smash or open them to reveal the surprise.
How can I incorporate football into a gender reveal party?
Football-themed gender reveals are popular in the fall. One method is to fill a small, soft football with colored powder and have the couple throw or kick it to create a burst of color. Another option is hosting a friendly game with team-shirts to represent their gender guess.
What are unique Thanksgiving-inspired gender reveal concepts?
Incorporate a gender reveal into your Thanksgiving feast by using colored stuffing inside a turkey, or by presenting a pie with colored filling. Create an interactive centerpiece, where guests can write on colored feathers (blue or pink) and attach them to a turkey-shaped display.
How can I combine Halloween elements in a gender reveal event?
Get spookily creative by using colored potion bottles, having a "trick or treat" reveal with hidden colored items for guests, or create a gender reveal ghost piñata. For a creepy-cute idea, dress up your bump as a mummy, and unwrap the colored layers to reveal the gender.
What are some fall-inspired gender reveal games?
Test your guests' intuition with a baby name or gender-prediction game based on popular fall activities, like bobbing for apples. Guests can pick an apple with their chosen name or gender, and later, reveal your baby's gender by showing an apple with the correct answer.
How to use apple picking as a gender reveal theme?
Host an apple picking excursion, with the baby's gender written on a hidden apple in the orchard. You could also create an artificial apple tree with colored apples as decorations, inviting guests to pick and open them. The moment comes when they find the one revealing the gender.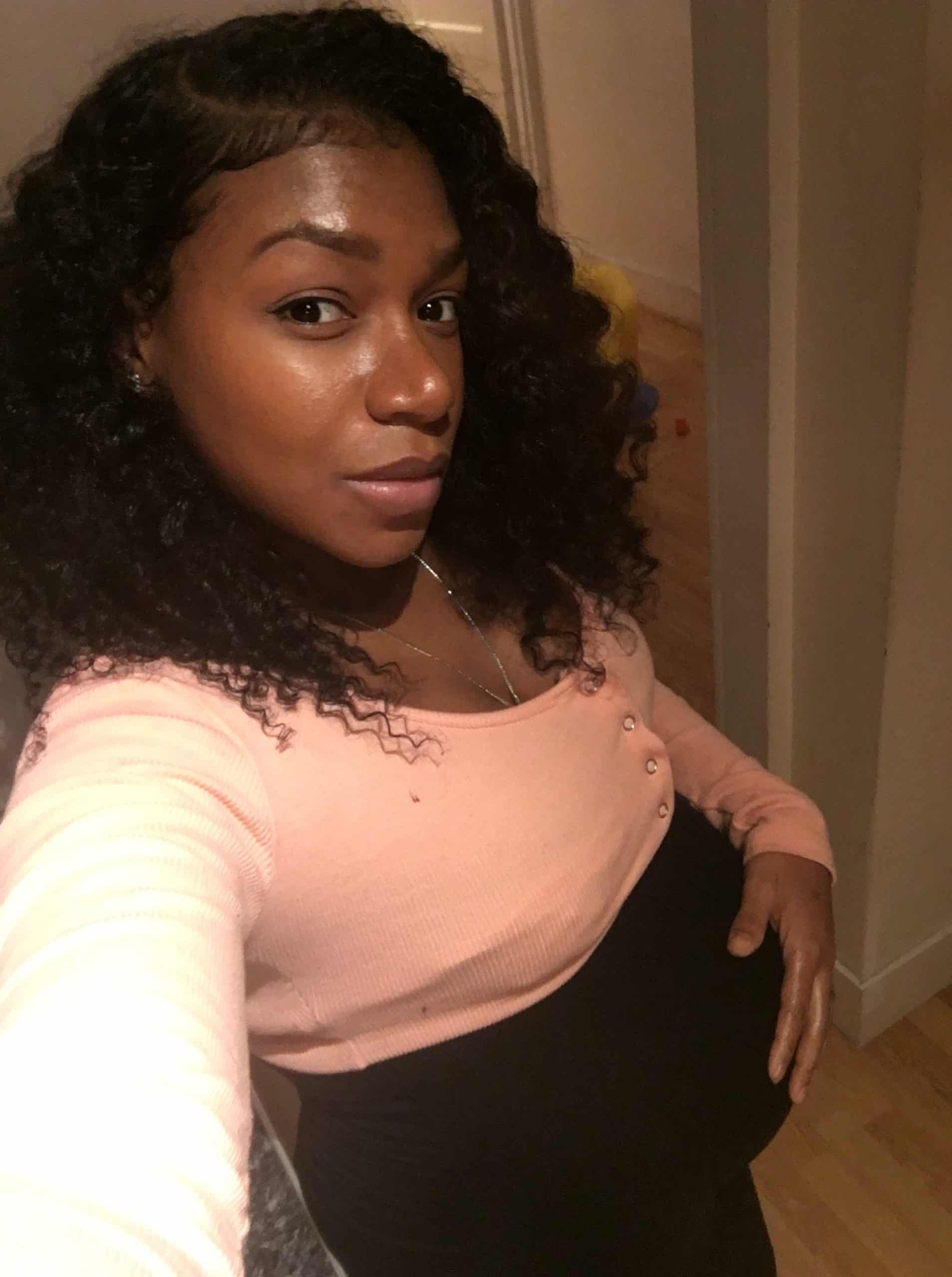 Iesha is a loving mother of 2 beautiful children. She's an active parent who enjoys indoor and outdoor adventures with her family. Her mission is to share practical and realistic parenting advice to help the parenting community becoming stronger.